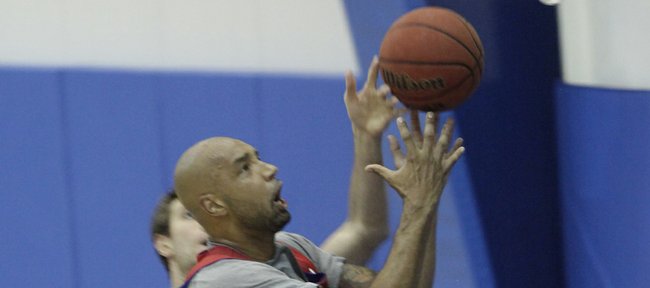 Videos
Bill Self camp alumni scrimmage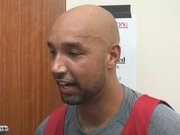 Former Jayhawks, including Drew Gooden, Scot Pollard, Jeff Hawkins and Cole Aldrich, scrimmaged against KU's current team during Bill Self's basketball camp Wednesday, June 15, 2011 at the Horejsi Center.
KUSports NBA Draft Contest
Where do you think the Morris twins and Josh Selby will be drafted? Enter our contest for a chance to win $100 in KU gear.
Drew Gooden, who had last played in Bill Self's basketball campers game in June of 2005, brought his talents to Kansas University's Horejsi Center on Wednesday afternoon.
"I think it was just time for me to do it, so that's why I'm here. It's great to be back. It feels good to be back," said Gooden, a nine-year NBA veteran who played power forward at KU from 2000 to 2002.
He scored 12 points and grabbed seven rebounds in the KU Alumni Team's 70-58 loss to the current Jayhawks.
"I wanted to come back and see the upgrades, see how the school looked, how the facility looked and compared to when I was going here. I mean, it's night and day," said Gooden, especially impressed by the new players' locker room and lounge.
The 29-year-old native of Oakland, Calif., who just completed the first year of a five-year, $32 million deal with the Milwaukee Bucks, admitted he felt like an old-timer while playing before 800 Self campers Wednesday.
"It's funny how the kids out there are 8-9 years old, and I've been in the league 10 years now," Gooden said. "When I was at Kansas, they weren't probably even thought of yet, so it feels good to see the youth coming in. It feels good to play with the younger guys on this team now. They're athletic. It seems like none of them even broke a sweat out there."
Gooden's losing Red team included 36-year-old former NBA power forward Scot Pollard, who, in playing for the first time in a full year, impressed with nine points and six rebounds. Oklahoma City Thunder center Cole Aldrich had 13 points and 10 boards, while recent KU grads Brady Morningstar and Tyrel Reed chipped in 10 and eight points, respectively.
KU junior forward Travis Releford scored 15 points to lead the winning Blue team. Elijah Johnson had 11 points, Thomas Robinson 10 points and seven boards, Conner Teahan nine points and Tyshawn Taylor eight points, six rebounds and six assists.
"We stayed with them for a while. We're old. We're out of shape. We got tired. They got easy transition baskets. A young team outran us," said Pollard, who will play two games in two days.
He will compete in today's Rock Chalk Roundball Classic charity game, (involving former KU players) set for a 7 p.m. tipoff at Free State High's gym.
"I just hope I can walk (today)," added the 6-foot-11, 275-pound Pollard, who played for five teams in an 11-year NBA career. "Last year's Rock Chalk Roundball Classic is the last time I touched the court or gym shoes or a basketball. I was lucky to even get to the rim today."
He had a blast being reunited with Gooden.
"I love Drew. It was a pleasure finally being teammates with him one year in Cleveland," Pollard said. "He is my kind of guy. He's a walking double-double. The guy knows where the ball is, he finds it, he gets rebounds without really trying. He and Nick Collison together in college was an unreal frontcourt. Drew's a great guy, and I love seeing him."
Gooden said there's a chance he and other NBA players just might be working out in Lawrence this fall and winter if there's an NBA lockout.
"I can envision that," Gooden said. "I'm one of the guys saying, 'Hey, if this does go into November, December, I mean, what better place would there be to train than here in Kansas?'
"To at least practice with the team or be around the facility, I think that's a great idea. That's been brought up. The union is trying to prepare some places in certain cities where a lot of NBA guys stay in the offseason and set up some workouts like that. There's going to be stuff for us to do if there is a lockout, but to come back to your school, there's no better atmosphere and focusing on getting ready for the season than that."
One of the stars of Wednesday's camp game would love to spend more quality time with Gooden, who, by the way, has played with a whopping nine NBA teams.
"I remember watching him a lot (at KU growing up)," said Kansas Citian Releford, who hit six of nine shots, including three three-pointers. "I got to guard him at the beginning of the game and most of the game. He was trying to come at me earlier, and I was going right back at him. It was a lot of fun."
Gooden, who missed 40 games last season because of a case of plantar fasciitis, enjoyed shaking off the rust.
"I am exhausted right now," Gooden said. "That's a talented team. Thomas Robinson is going to be a great player. He has great upside, great strength, leaping ability, skill. He needs more playing time at this level, show he can dominate this level, then one day be able to play at the next level. He has upside for that definitely."
Gooden said he'll be rooting for all the Jayhawks again next season.
"Something that's huge in an NBA locker room is representing your college, and me having to always be the only Jayhawk on the team, I'm always fending for myself and defending myself," Gooden said. "It's huge following college basketball. You don't understand how much NBA players follow college basketball and how big a fan they are of their alma mater."
Draft talk: Former KU forward Markieff Morris worked out for his hometown Philadelphia 76ers on Wednesday. He told the Philadelphia Inquirer it would "mean a lot" to be selected by Philly in the June 23 draft.
"I can help the team," he said. "I'm a stretch four, and I'm tough. I have that Philly pride, so they like that about me a lot. ... It was a good workout. I definitely wanted to impress these guys as much as possible."
More like this story on KUsports.com