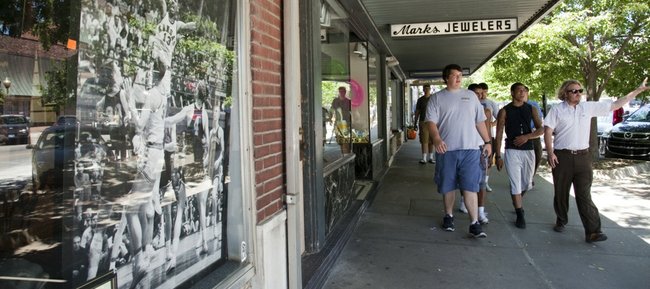 During their Wednesday afternoon tour of downtown Lawrence, six freshmen on Kansas University's football team were part of a rescue mission that placed a trio of baby birds who had fallen out of their nest back near their home.
The act was loaded with symbolism, as Wednesday's tour was a part of KU's Bridge program, a five-year-old endeavor that seeks to familiarize incoming freshmen in all sports with their new home.
For some, like defensive back Adonis Saunders, running back Dreamius Smith and linebacker Ben Heeney, finding comfort in Lawrence isn't that difficult. All three newcomers hail from the Sunflower State and frequently visited Lawrence.
But for others, such as cornerback Chris Robinson, of Lake Mary, Fla., or offensive linemen Travis Bodenstein (Springdale, Ark.) and Luke Luhrsen (Wheaton, Ill.), KU's campus and the city that surrounds it are a world away from what they're used to.
"This class actually helps a lot," Bodenstein said. "I didn't know where anything was when I got here, even stuff on campus, so this helps me get used to where I'm at."
The other football players present Wednesday were: place kicker Alex Mueller, wide receiver JaCorey Shepherd, running back Tony Pierson and linebacker Ryan Karlin.
In all, 40 student-athletes are expected to participate in the Bridge program this year, an all-time high for the class that spans two months and provides a couple of credit hours to each student. Tuesday, about 16 student-athletes from other sports walked Mass Street and became acquainted with one of the city's most popular spots. Wednesday, it was all football, as 10 members of coach Turner Gill's first full recruiting class walked the streets and checked out the stores that line both sides of the popular strip of town.
"The whole purpose is so they become comfortable with their new hometown of Lawrence, Kan.," instructor Adam Miller said. "Some of them don't have transportation, some of them haven't gotten outside of the dorms yet, so we just want to get them to Mass Street and kind of show them the city of Lawrence."
First up was a meeting with the mayor, Aron Cromwell, at City Hall. Then, Bridge instructors Miller and Howard Graham each took a group of guys up one side and down the other showing them the hot spots and cool hangouts. Most popular among this bunch were the shoe stores, sports-apparel businesses and Framewoods, 819 Mass., the frame store that features a giant photo of Wilt Chamberlain and Mario Chalmers' famed "miracle" shot from the 2008 NCAA title game in the window.
The tour ended at Sylas & Maddy's, the locally owned ice cream store at 1014 Mass.
The class will cover a wide variety of topics, everything from how to cook to writing papers.
"None of these students have taken a college course before," Miller said. "So we teach them how to write a paper, how to communicate with professors. We take them for tours around KU."
Miller pointed to past research that backs up the importance of a program like Bridge. Statistics have shown that in the five years the program has been around, those student-athletes who participated were more likely to remain in school through graduation.
A few former student-athletes who are living proof of that are planning to speak to this year's group later in the summer.
Former KU basketball standout Cole Aldrich, now with the Oklahoma City Thunder, and former football standouts Mike Rivera, now with the Miami Dolphins, and Darrell Stuckey, who plays for the San Diego Chargers, each participated in Bridge to kick off his college career.
This year's Bridge class runs through July 28, with the final week of classes taking place at the Spencer Art Museum, where each athlete will give a speech that introduces one of the works of art hanging on the walls.
"The main goal is just for them to learn how to be successful in the college environment," Miller said.
Though it's early, the feedback seemed favorable.
"I actually really like this class," Saunders said. "I don't like just sitting in a lecture class, so it's cool to get out and do things."
Added Robinson: "Yeah, this is cool because it showed me where everything is."