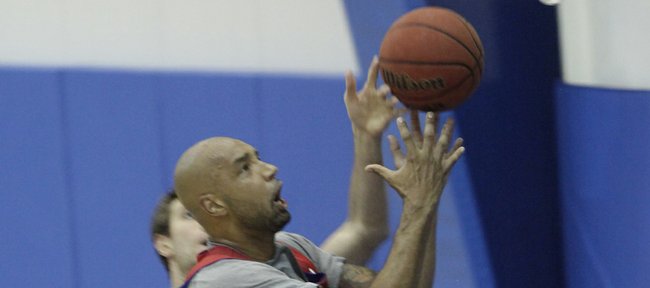 Videos
Bill Self camp alumni scrimmage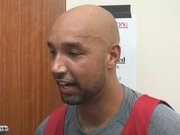 Former Jayhawks, including Drew Gooden, Scot Pollard, Jeff Hawkins and Cole Aldrich, scrimmaged against KU's current team during Bill Self's basketball camp Wednesday, June 15, 2011 at the Horejsi Center.
KUSports NBA Draft Contest
Where do you think the Morris twins and Josh Selby will be drafted? Enter our contest for a chance to win $100 in KU gear.
5:25 p.m. update:
Here are some final observations from the second camp scrimmage. Keep in mind this is just one pickup game from early summer.
• Travis Releford was the blue team's offensive MVP. The junior scored in a variety of ways, which included driving layups, pull-up jumpers off the dribble and set three-pointers. He finished with a game-high 15 points on 6-for-9 shooting, which included three three-pointers.
I know KU might be thin at big man, but from what Releford has shown so far this summer, it might be the best idea to leave Releford at his natural position at small forward. If you remember, he played the four position some for KU last year, and he has split time at the three and four in workouts this summer.
Releford's confidence appears to be growing, and not only is he a better fit on the wing offensively, that also gives him the chance to thrive defensively, where he's long enough and laterally quick enough to handle tough defensive matchups.
KU's best option with Releford might be to just to make him the starting small forward and see how good he can be.
• Elijah Johnson again was impressive from three-point range. The junior made his first three treys before missing his last two. He ended with 11 points on 4-for-8 shooting.
As I mentioned below, his shot just looks more quick and effortless this year. He made a couple threes today in traffic, and he appears to be KU's top candidate to replace the perimeter scoring from the graduated Brady Morningstar and Tyrel Reed.
• Tyshawn Taylor didn't take as many shots this week, but he still contributed plenty. He added eight points on 4-for-8 shooting with six assists and six rebounds. He wasn't as aggressive this week, but that also might have been smart, as it's a little tougher to get to the lane when three NBA big men are camping out there.
• Thomas Robinson showed some versatility to his offensive game in scoring 10 points on 5-for-10 shooting. Not only did he get a pair of stickbacks, he also put in an 18-foot jumper and had two drives from the free-throw line that ended in easy buckets. In more organized games, Robinson will need to be careful to avoid picking up charges, but for now, he looked a bit more under control when driving the ball off the dribble.
• Conner Teahan bounced back from a poor camp game last week to show what he can provide to this year's team: long-range shooting. He posted nine points on 3-for-5 shooting, with all of his scoring coming off three-pointers.
• Jeff Withey seemed to blend in to the action a bit this week, though he was better defensively after Aldrich scored frequently against him last week.
Again, Withey's numbers aren't eye-popping, but they are efficient. He scored six points on 3-for-4 shooting with a stickback and six-foot jumper in the lane that I remember.
• Justin Wesley struggled defensively in this game. In two straight possessions, he had troubles with Aldrich, fouling him hard once after getting fooled on an upfake and letting him go around him the second time. You could tell Wesley was upset with himself after the two sequences, as he shook his head while he made his way back down the floor. Wesley finished with four points on 1-for-1 field-goal shooting.
• Ben McLemore hit a mid-range jumper, but like Withey, didn't do too much to get himself noticed. He had two points on 1-for-2 shooting.
• Tough day for Naadir Tharpe, who had a three-possession stretch that marred his day. During the first possession, he had his pocket picked by Jeff Hawkins. The next time down, Tharpe quickly jacked up a three that missed. The third time down, he threw a pass in transition too far for McLemore, who dropped it out of bounds.
Last week, Tharpe played well by not forcing things and distributing the ball, which made me see why some folks had compared him to Aaron Miles. This week, he seemed to be trying a bit too hard and struggling to find his role in the offense.
Having said that, he still finished with five points (2-for-5 shooting) and had a nice assist on a jump pass to Teahan after curling around a screen.
Be sure to check back to KUSports.com later tonight for video highlights and interviews with players from after the game.
Final scoring
Blue team — Tyshawn Taylor 8 (6 assists, 6 rebounds), Thomas Robinson 10 (7 rebounds), Elijah Johnson 11, Travis Releford 15, Jeff Withey 6, Conner Teahan 9, Justin Wesley 4, Ben McLemore 2, Naadir Tharpe 5, Jordan Juenemann 0.
Red team — Drew Gooden 10 (7 rebounds), Brady Morningstar 12, Cole Aldrich 13 (10 rebounds), Scot Pollard 9 (6 rebounds), Tyrel Reed 8, Jeff Hawkins 4, Niko Roberts 2, Christian Garrett 0.
Blue 70/Red 58
Robinson follows Taylor's miss with a stickback to end the game.
The current team (blue) defeats the alums, 70-58.
Check back shortly for unofficial stats.
Blue 64/Red 58
Taylor drives, then throws an alley-oop to Johnson, who had slipped behind the defense. That looked like a set play even though it wasn't.
Blue 62/Red 54
Releford with a layup in transition. Don't have the numbers, but he has to be KU's leading scorer today.
Blue 60/Red 51
Releford with another three, this one from the left side. He holds up three fingers afterwards. He and Johnson have both been hot from three.
Blue 55/Red 51
Tharpe uses a screen well, curling around it on the dribble to draw a double-team before hitting Teahan for an open three. The senior drains it.
Blue 50/Red 49
Scoring is slowing with tired legs.
Tharpe adds a layup around Morningstar after a steal, and Wesley puts in a stickback dunk.
Blue 48/Red 43
Releford with another three, and Withey has put in a jumper and layup to contribute his first points.
Blue 37/Red 35
Releford puts in his first three from the right wing.
After that, the Blue team gets a steal, and Releford throws it off the glass to Robinson on the other side of the rim, who slams it home with one hand. Tough play to execute with a defender right in the area.
Red 35/Blue 32
That takes us to halftime, though we'll be resuming here in a few seconds. First team to 70 wins. Elijah Johnson with the best first half for the blue team.
Red 35/Blue 32
Wesley gets fooled on an Aldrich pump-fake and is forced to foul him. Next possession, Aldrich again scores easily over Wesley, who is having troubles defending the taller man.
Red 32/Blue 32
Tharpe puts in a transition three to tie the score.
Red 32/Blue 29
Conner Teahan with a strong drive, driving to the lane before going underneath Gooden for a layup.
The next time down, Teahen buried a three from the corner.
Red 31/Blue 23
A few bad possessions in a row from Naadir Tharpe. He had the ball stolen by Hawkins, then forced up a three that missed the next time down. On the next possession, he led McLemore too far on a fast-break pass for another turnover.
Red 31/Blue 23
Ben McLemore drains an open 18-footer. The blue team can't stop the red team defensively, though, with Gooden playing well inside.
Red 26/Blue 21
Justin Wesley with an aggressive move in the lane, and he creates contact to draw a foul on Aldrich.
Blue 19/Red 17
Another under-control drive from Robinson from the top of the key, as he gets to the lane and finishes with a left-handed layup.
Blue 17/Red 17
Johnson with another three. That makes him 3-for-3 from deep.
Blue 14/Red 14
Robinson charges down the lane on the dribble, splitting two defenders before throwing a slam in with one hand. Highlight of the day so far.
Blue 12/Red 12
Releford with an aggressive move, taking a couple dribbles inside the three-point line before knocking in a contested 15-footer.
Blue 10/Red 10
Two threes in a row for Reed. All net both times.
Blue 8/Red 2
Johnson with another three. This time he was closely guarded. His stroke looks more compact and effortless this year.
Blue 5/Red 2
Travis Releford gets the toughest matchup of his life, trying to defend Drew Gooden in the post. He coaxes a miss on a Gooden jump hook.
Blue 3/Red 0
Elijah Johnson starts with a long three — from about 24 feet. I saw him make 24 threes in a row at a shootaround a couple days ago.
3:48 p.m.
Getting ready to start here. By the way, Gooden has the clean-cut, shaved-head look with sideburns and a short beard.
Pollard going with the long hair and mutton chops.
3:45 p.m.
Niko Roberts and Christian Garrett will round out the red squad.
Everyone else on the current team will be on the blue team.
3:42 p.m.
Tyrel Reed, Jeff Hawkins and Brady Morningstar will also play on the red squad.
3:40 p.m.
KU coach Bill Self, when introducing Jeff Withey: "He will lead the Big 12 in blocked shots this year."
3:38 p.m.
This will be the front line for the red team: Cole Aldrich, Scot Pollard and Drew Gooden. Not too shabby.
3:36 p.m.
Welcome back to the Newell Post Live, coming to you from the Horejsi Center on the Kansas University campus where the KU men's basketball team is getting set for its second summer camp game.
We're expecting a few more alums to show up to this week's game, though I don't see too many of the guys around just yet. Heard from a few places, though, that Drew Gooden is supposed to be here.
We're still about 20 minutes from starting here, so check back for quick updates and highlights from today's game. Afterwards, we'll have stats and observations from the game, and later tonight be sure to come back for video highlights from today's scrimmage.