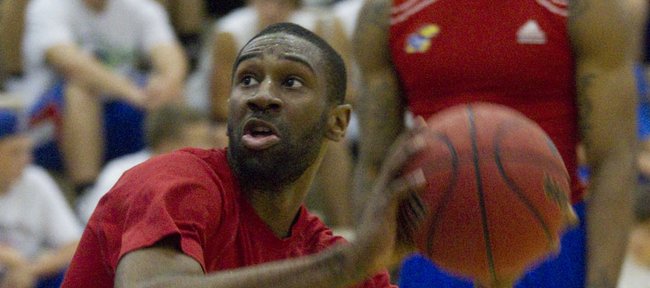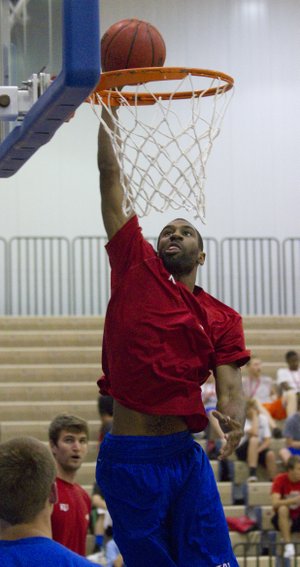 KUSports NBA Draft Contest
Where do you think the Morris twins and Josh Selby will be drafted? Enter our contest for a chance to win $100 in KU gear.
Kansas University sophomore basketball forward Justin Wesley, who was born and reared in Fort Worth, Texas, rooted for the Dallas Mavericks to win the 2011 NBA championship.
Well, sort of.
"I am really a Lakers' fan. Since they beat the Lakers and I like Dirk's game, I had to go for the Mavs (against Miami in the finals)," Wesley said Monday after participating in drills at Bill Self's basketball camp in Horejsi Center.
The Dirk Nowitzki-led Mavericks defeated the Heat, 105-95, on Sunday to take the title, four games to two.
"I was never a Mavericks fan. I never liked any Texas teams," Wesley said. "I was a Kobe fan. Keith was a Lakers' fan also," Wesley added of his brother, former KU guard Keith Langford. "Our whole house was a Lakers fan."
Why?
"Kobe ... and Shaq," Wesley said of future Hall of Famers Kobe Bryant and Shaquille O'Neal.
Wesley has been told he resembles his idol — Lakers' phenom Bryant.
"You know what? I get that a lot. I don't see it, but everybody else does," the 6-foot-8, 200-pound Wesley said of friends and strangers alike comparing him facially and physically to the 6-6, 205-pound Bryant. "One time at IHOP (in Texas), somebody came up to me asking for an autograph thinking I was Kobe Bryant."
Future NBA Hall of Famer Bryant plays on the perimeter. Wesley, who transferred to KU last summer from Lamar University and sat out the 2010-11 season in accordance with NCAA rules, is a somewhat undersized power forward.
"Working with Marcus and Markieff (Morris) was a good experience getting stronger, and I felt those were two of the best big men in the country," Wesley said. "Thomas (Robinson), too. Working with them made me a lot tougher.
"I am still working on my perimeter skills a little bit," he added. "We'll see as time goes on. I'm in the gym working every day."
Wesley could be counted on for frontcourt depth next season following the departure of seven players, including the Morris twins and forward-guard Mario Little.
"I'm working on my ball-handling skills, my outside jumper and getting stronger so I can contribute any way I can to the team," Wesley said.
He averaged 1.2 points and 1.3 rebounds while logging 9.9 minutes a game during the 2009-10 season at Lamar. He tallied season-highs in points (eight) and rebounds (eight) against Lyon College. He had four games of 20-plus minutes.
"This summer I am going to work really hard to try to get better and better my skills. If I do get to the point where I can get in the rotation, that's where I'll be," Wesley said.
Wesley's famous brother, Langford, the No. 7-leading scorer in KU history, has been battling injury and hasn't been able to play for BC Khimky of Moscow in the Russian League playoffs.
"He had a problem with his knee. He's sitting out now," Wesley said of his brother, who recently signed a four-year extension with Khimky, good for $2.3 million a year.
More like this story on KUsports.com