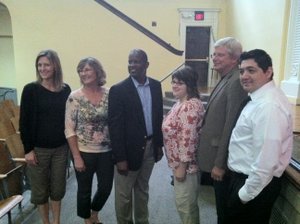 Since his first day on campus, Kansas football coach Turner Gill has stressed the importance of family and relationships, both on and off the field. Gill shared his personal family-building experiences Monday night at the Liberty Memorial Central Middle School auditorium, 1400 Mass. The event kicked off Dad Days, which is a series of activities planned for this week sponsored by Dads of Douglas County — a group that promotes fathers' involvement in the lives of their children.
Gill said he was thankful for how he and his two sisters were raised, and he shared stories on how his background shaped the way in which he and his wife raise his two daughters.
"I respected my mom and dad because I saw how they lived their lives," Gill said. "I never saw an argument between my mom and dad. Maybe they did the purposefully ... but I really look back at that and try to value that as I go into my marriage and how I want it to be done in my family."
Gill's father worked as many as three jobs at times — two performing janitorial services and another at a laundromat if the family needed the extra income. His mother worked as a beautician.
Gill said the toughest part of his job is being away from his family, and he discussed the hectic schedule that comes with the job as a Division I college football coach. Regardless of his crowded calendar, he stressed the importance of staying on track and committed to family. Even with his busy schedule, Gill always sets aside two nights each week. His wife gets one of those nights, and his daughters take turns every other week for the second night of his undivided attention.
"There's nothing that's going to interfere with those particular nights that I have set," Gill said. "We set that schedule ... and I cannot let anybody interfere with that because I'm trying to show them that I value them and that I'm going to be there for them. Yes, you understand that Dad's going to be gone quite a bit, but Dad says this day, this time, is with me."
He says it is about the little things as well.
"I'm a Post-it note person," Gill said. He'll often write little notes on his daughters' mirror or put one in their lunch boxes to continually remind them of family.
Because Gill has a family that extends beyond his home, he tries to apply fatherly techniques to his coaching life.
"God gave me two daughters. As you know, I was going to be a coach so I've got thousands of sons," Gill said. He refers to any football organization he's a part of as a "family" and is always sure to tell his players' parents that he intends to treat their son as his own.
"I look at this as, for me, to try to help our society to bring better men and bring better families, better husbands, better fathers to our society through the game of football. ... I'm here to win football games, no question about that, but I'm also here to make sure these men understand how to value ... themselves ... and have a respect for all other people, no matter who they are."
Because some players on the team come from single-parent households, Gill tries to put them in an environment in which they can see the interaction among him and his family, as well as the team's other coaches and their families, and to experience a male presence within a family, if only for a few days a year.

"I feel that's part of my responsibility as a coach; as a teacher, I'm not only teaching the game of football — I'm teaching the game of life," Gill said.
In his 20-plus years of coaching, some of Gill's players have been fathers themselves, trying to balance being a football player and a dad. The top advice he gives them?
"Whatever you do, you need to be there when that child is born ... You forget about school. You forget about the game. You have to witness that," he said.
Devin Zell, a single father from Lawrence, has a 3-year-old son and has been involved with Dads of Douglas County for about eight months.
"I really joined the group as an opportunity to reach out with other fathers and to learn from them; to find activities that I can participate in with him that were a little more structured than just playing Legos and putting puzzles together," Zell said.
Zell moved to Lawrence 15 years ago to attend KU, but he could care less about football — he has never attended a game. His presence Monday night was solely to hear Gill speak from a father's point of view.
"I really liked what coach mentioned about having a time to share a positive thing on a regular basis," Zell said. "I make it a constant point with my son to every night ask him about something that he's proud of even though he's 3 years old. I really like coach's idea about keeping a family journal to start recording some of those memories that might otherwise be forgotten."
Tuesday's Dad Days event features Pulitzer Prize-winner Leonard Pitts, who will speak at Liberty Memorial Central Middle School at 8 p.m.