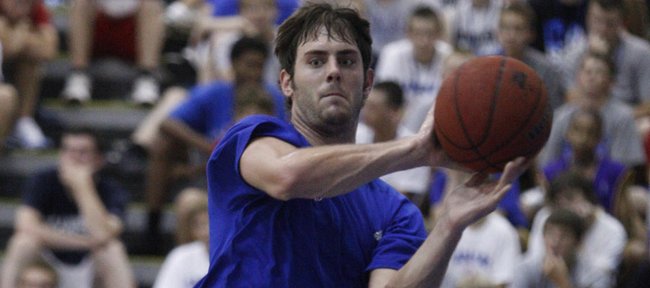 KUSports NBA Draft Contest
Where do you think the Morris twins and Josh Selby will be drafted? Enter our contest for a chance to win $100 in KU gear.
Conner Teahan is serious about making an impact his senior season at Kansas University.
The 6-foot-5, 215-pound product of Kansas City (Mo.) Rockhurst High who red-shirted a year ago, not only is lifting weights and playing in regular pick-up basketball games while enrolled in summer school, but also heading to K.C. several times a week for individual workouts with former Oklahoma State/Illinois State player Victor Williams.
"A lot of it is kind of instinctual stuff, shifting side-to-side-type movements, more fast-break-type stuff," Teahan said Sunday after signing autographs for 21⁄2 hours for Bill Self's basketball campers. "It's a lot of ballhandling and working on my overall game."
Teahan, who first met Williams five years ago, believes he can be more than a three-point bomber in 2011-12. He has made 27 of 71 overall shots (.380) in three seasons, 17 of 46 (.370) from beyond the arc.
"I'm trying to help the team out in whatever way possible, rebounding, getting assists, defending and everything like that," Teahan said.
KU coach Bill Self, who loses seven players off last year's 35-3 team, might have surprised more than a few of his 700 campers Wednesday when he told them he expected Teahan to be part of the regular rotation in 2011-12.
"I heard that. I very much appreciate him saying that, but I always just let it play out," Teahan said. "I am going to wait until the season and work. I always felt I could be in the rotation, so that's something I heard, and I'm happy he said it. It's not something I wasn't wanting in the first place."
Teahan acknowledges he made the correct call in practicing but not playing in games last season.
"I am definitely happy to be here another year, and I felt the red-shirt year was a good year for me, not even just the sense of basketball, but me maturing as a person," Teahan said. "I am very happy I did it. I'm kind of anxious to get out there and show I can help this team win."
Teahan said he has not reflected on the fact the Jayhawks will be without Tyrel Reed, Brady Morningstar, the Morris twins, Josh Selby, Mario Little and Royce Woolridge this season.
"I don't think it's completely sunk in because I'm still living with Brady, but it's definitely going to be a little bit different," Teahan said. "Not that I didn't get along with these guys (returnees), it's just that I hung out with those guys a little bit more. I like the guys we have on our team. I think it'll be a fun year."
He likes what he has seen of newcomer guards Naadir Tharpe and Ben McLemore.
"Naadir is very good. Ben is very good. I love to see what they will do in our system," Teahan said.
Self said freshman forwards Braeden Anderson and Jamari Traylor, who are completing some high school academic coursework, should be in Lawrence by next Monday for the second half of summer school. Traylor, who is originally from Chicago, is working out at IMG Academies in Bradenton, Fla. Anderson is in back in his hometown of Okotoks, Alberta, Canada.