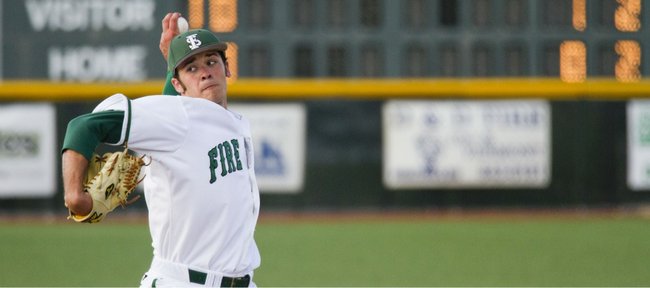 Heading into the week, there were just a couple of Major League Baseball caps hanging in Free State High baseball standout Cody Kukuk's room.
Early Tuesday afternoon, Kukuk's collection grew by one. But, this time, the logo on his new hat belonged to his new team.
The Boston Red Sox made Kukuk the 20th pick in the seventh round (No. 232 overall) in Tuesday's amateur draft, something he and his family learned via the Internet.
"We were watching it online, and when I saw my name come up, my heart just kind of dropped, honestly," Kukuk said. "I wasn't really expecting to get drafted by the Red Sox. It was kind of surprising. But I'm pretty excited."
Shortly after the news hit the Kukuk home, Kukuk's father, Rod, rushed out to buy the classic navy blue cap with the bright red B on it. It didn't take long for Kukuk to break it in.
"It feels good," Kukuk said.
All spring, scouts pegged Kukuk as a likely third- to seventh-round selection. A few months back, Kukuk signed a national letter of intent to play baseball at Kansas University. However, now that he's been drafted, it's time for him to make a decision about his future.
Kukuk, who lauds closer Jonathan Papelbon as his favorite Red Sox player, has until Aug. 15 to negotiate and weigh the decision of whether to attend college or jump straight into pro ball with the Red Sox organization. Scheduled to leave today for Southeast Texas, where he'll play summer ball, the left-hander said he wasn't too worried about the weight of the choice just yet and that he was pleased with where he was picked.
"The round doesn't really matter," Kukuk said. "It's more about your signing bonus, so we'll just have to see what happens with all that. (Negotiating) hasn't really started yet. I'm kind of a summer follow for them. They're gonna watch me pitch this summer and we're just gonna go from there."
As if being drafted in the Top 10 rounds wasn't exciting enough, both Kukuk and his mother, Lori, said being picked by an iconic club like Boston just added to the day's excitement.
"It's definitely an honor, more than anything," Kukuk said. "I think it would be an honor for me to wear a Boston uniform and pitch in Fenway."
Added Lori: "It's a program that's been around forever. People keep asking us, 'Have you been to Boston?' and none of us have. But we're excited to go."
Kukuk's first trip to Beantown should come sometime in July, when the big league club hosts all of its 2011 draft picks for a meet-and-greet at Fenway Park. During the process leading up to the draft, Kukuk threw at Kansas City's Kauffman Stadium and Seattle's Safeco Field. He admitted the thought of pitching in Fenway blew away both of those opportunities.
If history is any indication of what's ahead for Kukuk, he and his family ought to prepare themselves for a nice offer.
In last year's seventh round, the Red Sox selected University of Miami senior pitcher Chris Hernandez, who had no leverage with the club but still received a signing bonus of $375,000. 2010 sixth-round pick, Kendrick Perkins, an outfielder from La Porte High in Texas, signed and received a bonus of $628,000. The team's eighth-rounder in 2010, Virginia Tech pitcher Matthew Price, signed for $415,000 and 10th-round pick, Jacob Dahlstrand, a high school senior from Houston, signed for $150,000.
Interestingly enough, the 232nd pick in last year's draft, Ryan Christenson, a left-handed junior college pitcher, signed with the Dodgers for $125,000.
Going back a little more, Madison Younginer, a right-handed pitcher from Mauldin (S.C.) High, was the Red Sox's seventh-round pick in 2009. He signed with the club and received a bonus of $975,000.
With those numbers stacked against him, KU head coach Ritch Price took time to talk about Kukuk's big day.
"I have such great respect for the young man and his family," Price said. "They've handled this whole process properly. When he slid past Round 4, I thought we had a chance of getting him. You look at the kids who were taken at the top of the draft and you see the highest selected guys were college pitchers. At the same time, there were three organizations that I was hoping, selfishly, wouldn't pick him and the Red Sox were one of the three."
Both Price and Kukuk said they expected to talk to each other in the near future.

"Now that we know what team it is and we know what round it is, we'll sit down and talk it over with him," Price said. "(The Red Sox) start with him and they'll negotiate and that could take as long as a month."
Regardless of the outcome, Price said he'd remain a Kukuk supporter.
"I'll respect whatever decision they make," Price said. "And we'll be his biggest fans next to his family."