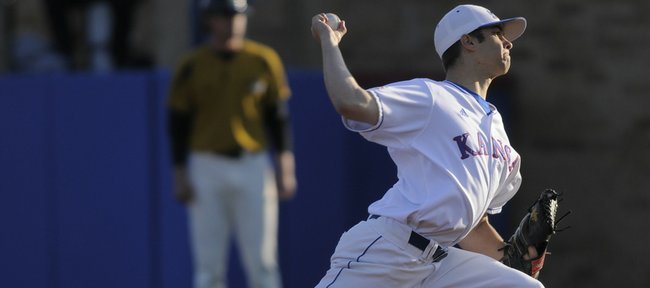 Kansas University senior pitcher T.J. Walz was drafted in the 15th round of Major League Baseball's amateur draft — 466th overall — by the Oakland Athletics on Tuesday.
Walz was the second Jayhawk selected on Tuesday, joining teammate Colton Murray, who was taken by the Philadelphia Phillies with the final pick of the 13th round.
Walz, a righty from Omaha, Neb., leaves KU as one of the best pitchers in school history. In 2011, he led the team in wins, going 6-5 in 14 starts with 85 strikeouts. He finished the season with 3.97 ERA and was named All-Big 12 Honorable Mention for the second time in his career.
Walz owns school records in innings pitched (328 1/3), games started (50), strikeouts (307), and tied the record for career wins (26).
He was a 2009 All-Big 12 second team selection and was named Preseason All-Big 12 in 2010. He was also a three-time Academic All-Big 12 First Team selection and was twice named conference pitcher of the week in his career.