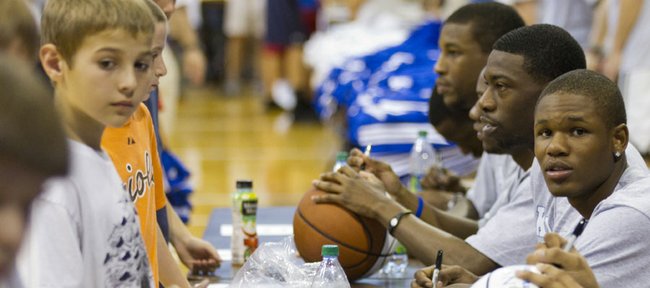 Ben McLemore, who witnessed Kansas University basketball mania for the first time at Late Night in the Phog, experienced his second dose of the craziness on Sunday in Allen Fieldhouse.
The 6-foot-5, 185-pound KU freshman shooting guard from St. Louis, sat at a table for 21⁄2 hours, signing autographs for wave after wave of wide-eyed youngsters on hand for orientation at the four-day Bill Self basketball camp.
"The players told me how it was going to be. I didn't believe it for real. I had to see it for myself. It's pretty shocking, all these people wanting our autographs. It's pretty fun," said McLemore, who arrived in Lawrence for summer school on Saturday afternoon.
"I'm here to work hard every day, stay focused on my books. That's the main thing I'm going to be worrying about this summer — the books," added McLemore, who, after being dismissed from Oak Hill Academy second semester, graduated from Houston's Christian Life Academy.
McLemore said he finished the semester with straight A's.
"That was a good thing, a big ol' plus," he said with a smile.
McLemore has arrived at KU with a reputation as a high-flying athlete with an ability to hit the deep three as well as drive the lane and baseline for vicious slams.
"My freshman and sophomore year, everybody thought all I can do is dunk, so I got my mid-range game and three-point shot consistent," McLemore said.
"I'll be more a slasher. I'm going to shoot, dunk on people, stuff like that."
He said he considers himself, "a wing, a shooting guard, a slasher for real. That's what I want to be, a slasher all over the place," McLemore stated.
He averaged 16 points and seven boards at the Houston high school after exploding for 28.3 points and 12.7 rebounds his junior year at St. Louis' Wellston High. His Oak Hill stats have been unavailable.
"I'm like every other freshman wanting to come in here and work hard," said McLemore, who will be rooming this summer with sophomore walk-on Niko Roberts. "As a freshman you know you don't have a spot (in rotation), so you come in and work at it and get one."
He's willing to take his chances at a school he's wanted to attend for some time. It just took him a little while to convince his mom, Sonya, a Missouri fan, that KU was the place to be.
"It's a big relief," he said of stepping on campus. "It was a hard decision. I had difficult choices and stuff, people pulling me here and there. It was a good decision. I'm happy I'm here now, though."
His mom and two cousins drove him here Saturday from St. Louis. Sonya is totally at peace with her son choosing KU over her beloved Tigers.
"It was a good drive. I was sleeping most of the way," said McLemore, the No. 34-rated prospect in the Class of 2011 by Rivals.com. "It got a little emotional. Every time we stopped, I talked to her about it (leaving home), about college and stuff."
McLemore currently is joined on campus by fellow freshman Naadir Tharpe, a 6-foot point guard from Brewster Academy in Wolfeboro, N.H. Two other members of the freshman class, Braeden Anderson and Jamari Traylor, will be here in coming days.
"It's nice," McLemore said of hanging out with Tharpe. "I'll get real tight with him. He's going to be the point guard. That's what you are supposed to do."
Tharpe is a big fan of McLemore's game.
"He's definitely a great player. I've seen him play a couple times at Oak Hill. I played against him," Tharpe said. "He works real hard. He can rebound the ball well. Seeing him at Oak Hill, he's definitely improved his jump shot."
KU junior Thomas Robinson likes what he's seen out of both newcomers.
"I think they get along with everybody. It will be a smooth transition for them," Robinson said. "Those guys have their head on straight. They know what they want to do, come in here and work hard and that's their main focus. They fit right in. I think the coaches take care of that part. They know the type of guys that will fit in with us, along with the talent."