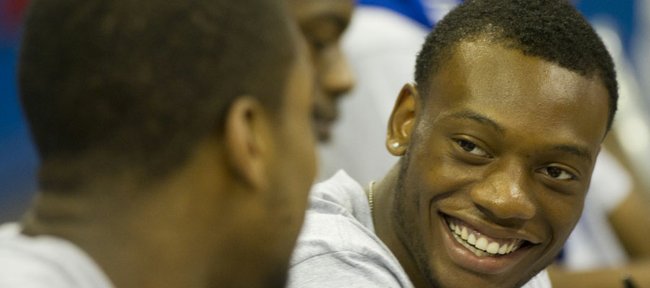 Incoming Kansas freshman guard Naadir Tharpe grinned when he was asked if he watched former KU guard Mario Chalmers of the Miami Heat sink a big game-tying three near the end of Game 2 of the NBA Finals.
"Of course I did. Of course I did," Tharpe said.
What was he thinking?
"KU," Tharpe exclaimed.
The Heat ultimately lost that game against Dallas, but, helped by 12 points from Chalmers, defeated the Mavs, 88-86, in Game 3 on Sunday.
"I got a text from one of our recruits saying, 'Do you remember him ever making another big shot like that?''' KU coach Bill Self said of an unnamed prospect texting him after the huge Game 2 trey from the corner.
Chalmers, of course, sent the 2008 national title game against Memphis into overtime with a three.
"That didn't surprise me at all. Mario is a good shooter. With the game on the line, he's a great shooter," Self said.
KU received some publicity near the end of Game 2. The announcers reminded the country of Chalmers' big three versus Memphis.
"That's cool because he made probably the biggest shot in Kansas basketball history. That's a memory none of us will ever forget," Self said.