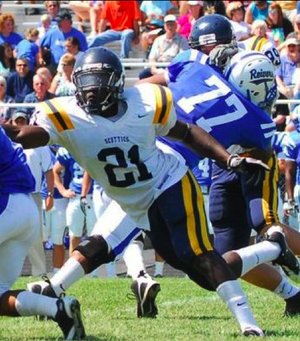 Two years ago, linebacker Tunde Bakare left Woodbridge, Va., for Highland (Kan.) Community College and had every intention to go back.
Now, after signing on Feb. 2 and pledging to spend the final two seasons of his college career at Kansas University, Bakare has gotten used to the idea of calling the Sunflower State home.
"I never really even thought of KU," said the 5-foot-11, 215-pound outside linebacker who nearly signed with Maryland out of high school. "I felt like Kansas was the last place I would go to. But I prayed a lot about it and I thought it was crazy that they gave me the offer. I'm just emotionally amped up to go there and get this show on the road. I'm excited."
Being excited — or exciting — has never been much of a problem for Bakare. Throughout high school, he was known for having a motor that wouldn't stop. During his two-year stay at Highland, he was the same wild player who flew to the ball, blew up ball carriers and made big hits.
But a funny thing happened while Bakare was off the field during the last two seasons. He learned how to become an even better player by letting his mind factor into the way he played. All of a sudden, relentless sprints to the quarterback were aided by proper technique or good angles. Head-on collisions with running backs were backed by sound form and a nose for the football. His numbers went up. His IQ did, too.
"I think I've gotten a lot better," Bakare said. "Obviously, I've gotten better physically, but I really think I've gotten a lot better mentally. I don't think I really understood the game coming out of high school. I knew I could run fast, I knew I could hit people, but I didn't really understand the game. Coach (Mike Beagle) really helped me understand it more. There's really nothing to do in a small town, so I just devoted myself to football."
As the days went by, studying film became as exciting as squaring up on a ball carrier. And Bakare found himself thinking more, but still playing with the same tenacity.
"Learning more and more about quarterbacks, what their tendencies are, how they drop back," said Bakare of what areas he focused on most. "Just the little things of the game. I feel like I have the physical attributes. I think if I get that stuff down to a tee, I could be really something, a force to be reckoned with."
That's his goal for his two seasons at Kansas. Because of the current state of the KU roster, he has a chance to fulfill them. Bakare — one of six linebackers signed by KU coach Turner Gill in the Class of 2011 — comes to a team that lost two of its top three linebackers from last year's team. Senior-to-be Steven Johnson (last year's leading tackler) is the only returning linebacker who played a significant role in 2010, and the unit also expects to be bolstered by the return of sophomore Huldon Tharp, who started as a true freshman but missed all of last season because of injury. That leaves a spot or two for the newcomers, and Bakare already has his eye on one of them.
"My goal is to come there and start," he said. "Help us get to a championship, that's what my goal is."
Because of his speed — he's been clocked at 4.35 seconds in the 40-yard dash — Bakare said the KU coaching staff has told him they'd like to utilize him as a linebacker and a nickel back.
"They want to bring me in as a nickel rover," he said. "I'm an outside linebacker, but I also can do the things required of a strong safety so I can really do two things and it's going to help them be able to keep their linebackers on the field and not feel like they have to bring in a DB when they go to that nickel coverage."
Like everyone who plays for Gill, Bakare's going to have to earn his way onto the field. But if what Gill says of the incoming linebackers is true, it's a safe bet that several of them will play meaningful snaps this fall.
"These guys have shown that they can go from sideline to sideline," said Gill of his new linebackers on signing day. "They can hit people, they can splatter people, they can knock the ball out. They showed that."
It remains to be seen what Bakare's role will be, but one thing already is certain.
"I'm ready to get down there and make things happen," Bakare said. "(Kansas was) the best opportunity for me and my family. It has the best academics, it has a great coach, it has great players and I think they're hungry to win and to change history there."
Bakare and the rest of the incoming class will report to campus tonight.
More like this story on KUsports.com