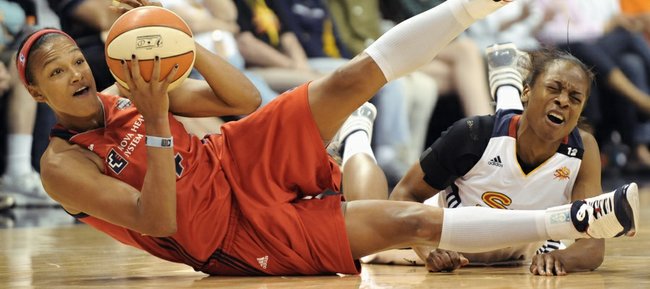 Uncasville, Conn. — Connecticut's Danielle McCray had more than a year to think about what it would be like to play her first WNBA game.
Saturday's 89-73 victory over Washington exceeded her expectations.
McCray, who suffered a knee injury during her senior season at Kansas University and sat out her rookie year with the Sun, scored 14 points, hit all five shots she took from the field and had four three-pointers.
"I can't really say I expected it, but I've been working hard," she said. "So, I couldn't say it wasn't going to happen. I've been staying after for shooting and working on my shot a lot."
Tina Charles had 18 points and six rebounds to lead Connecticut. Renee Montgomery added 15 points and Asjha Jones scored 10 of her 14 points in the second half.
Charles, who averaged more than 15 points and 11 rebounds in winning the league's Rookie of the Year honors last season, said McCray's outside shooting kept the defense from collapsing inside.
"I rarely got double teamed tonight," she said. "It happened maybe a couple of times. But the way Danielle was hitting and the way our guards penetrated, it really opened things up underneath."
Nicky Anosike, who was acquired from the Minnesota Lynx two days before the WNBA Draft, and Crystal Langhorne each had 16 points to lead Washington.
McCray came off the bench and her first two shots, both three-pointers, helped spark the second-quarter surge.
"She just kind of took a deep breath and played a little bit," Sun coach Mike Thibault said.
Connecticut paid tribute to former center Margo Dydek before the game with a moment of silence and video montage. The 7-foot-2 center, who played for the Sun from 2005-07, died Friday after being placed in a medically induced coma following a heart attack. She was 37.
More like this story on KUsports.com