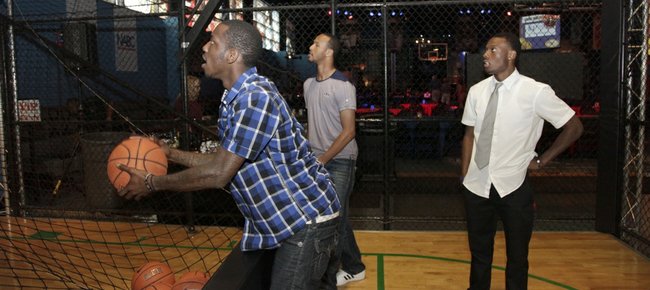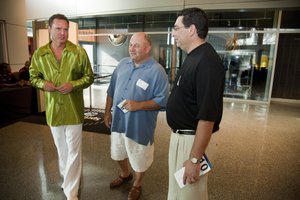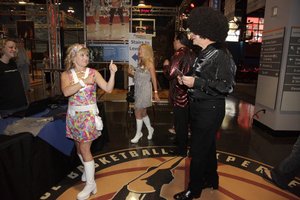 Kansas City, Mo. — Bill Self wore a green silk shirt, gold chain and white slacks to his third Bill's Basketball Boogie held Saturday night at the College Basketball Experience next to Sprint Center.
Cindy Self, co-chair of the charity event — and wife of Kansas University's ninth-year hoops coach — modeled a rainbow-colored dress with white go-go boots, also befitting the disco-oriented theme of the evening.
Actually, a quick glimpse of the 700 or so guests at the dinner/dance revealed just one person in a 2011-style dress shirt with a silver necktie to go with black pants.
That'd be incoming freshman point guard Naadir Tharpe, who several months earlier also stood out by arriving in business attire on his official recruiting trip to KU.
"I get it from my father. He worked at a bank. He looked proper at all times, always wearing a nice shirt and tie as well," said Tharpe, a 6-foot, 170-pounder from Worcester, Mass., who arrived for summer school at 3 p.m. Saturday, after flying from Boston's Logan International Airport to KCI.
"I went to prep school. That's what I'm used to wearing," added Tharpe, Rivals.com's No. 92-rated player. He averaged 14.5 points and 6.0 assists a game in leading Brewster Academy of Wolfeboro, N.H., to a 31-3 record and a spot in the national prep school semifinals.
Tharpe, who phoned his mother, Lori, shortly after landing — "She said, 'I'm proud of you. Reach whatever goals you want.' That's what I'm looking forward to doing,'' — tries to make both mom and dad proud on a daily basis.
Tharpe's papa, Ronald Edward Tharpe, died after a yearlong battle with lung cancer in 2006 at the age of 47.
"What a great kid," Self said of Naadir, New England Preparatory School Athletic Council player of the year. "This kid showed up on his recruiting visit in a tie. He reminds me a lot of Aaron (Miles, KU career assists leader, 954, 2002-05). There are things about him ... people gravitate to him.
"I think he'll be a great leader for us, a great recruiter for us moving forward. I'll be shocked if he's not more an impact player next season than what a lot of people think. He's a lot better player than his ranking," Self added.
Tharpe — he chose KU over Oklahoma, Minnesota, St. John's, UCLA, UNLV, Indiana, Marquette, North Carolina State and Boston College — is looking forward to getting right in the gym. He shot baskets with his teammates, including fellow freshman Ben McLemore of St. Louis, on Saturday night at the Boogie.
"I'm just going to work on my defense. Like coach said, 'You can't get in the game unless you keep your man in front of you,''' Tharpe said. "I'm going to work on everything I need to work on to become better and be able to get on the floor. I'm excited. It was a lot of work to get here."
Tharpe was glad an outing such as the Boogie was scheduled on his first night in town.
"It's exciting. I got a chance to meet a lot of new people, plus I got a chance to be hanging around with the dudes from the team," Tharpe said. "Coach Self is here. Everybody got all dressed up. It's a fun time.
"I'm 100 percent happy to be around the team. There's definitely some tension, a little bit of nervousness going on. I just can't wait for everything to get started."
Any chance he'll get homesick this summer?
"No chance. No chance," he said with an infectious smile. "I'm too old for homesick. I'm around a lot of people you can call your family."
Boogie fever: The Boogie, which includes an auction, raises money for Bill and Cindy Self's Assists Foundation. The foundation benefits various youth initiatives including awarding college scholarships to area youths.
"This has been a great night," Self said. "It's great for everybody to let their hair down, relax and enjoy the night. It was really cool. What it did was raise a lot of money for youths in our area. We are appreciative of everybody who supports this cause."
He said it was a big thrill last year in personally handing out scholarship checks to eight youths.
"A lot of these kids wouldn't have the opportunity to go to school if it weren't for some assistance," Self said. "We're really proud to be able to play a role in that. I'm proud of the recipients."
Of the outfits of he and his wife, Self said: "My wife looks great. She looks like a cross between one of the go-go girls in an Austin Powers movie or someone from the late 70s, early 80s. She certainly looks a lot better than her spouse. It's fun to see all these people dressed up."
More like this story on KUsports.com