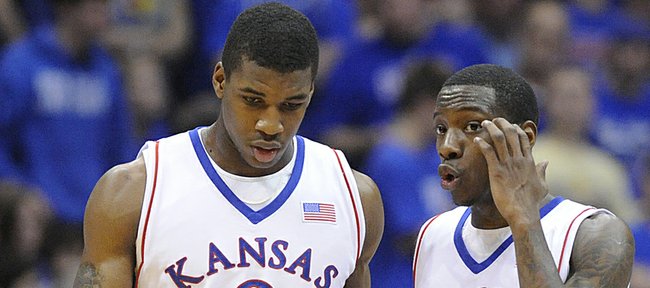 Trying to forecast which player will lead one of Bill Self's teams in scoring often presents a challenge. As the roster stands now, it's not an easy guess. DeAndre Daniels, should he make Kansas his college destination, would be a strong candidate to lead the Jayhawks in scoring, playing Mr. Outside to Thomas Robinson's Mr. Inside. Daniels has the sort of deep outside shooting range KU lacks to some extent heading into next season. But for now, he's not affiliated with any college, so we'll leave him off the forecast.
Players who filled 68 percent of the minutes during a 35-3 2010-2011 season won't return, 71 percent of the scoring is gone and just 22 percent of the three-point field goals were scored by returning players.
No member of the team ever has averaged double figures in scoring during a college season.
The roster begged for the addition of an elite talent noted for his ability to score. Ben McLemore, a 6-foot-5 native of St. Louis who split his senior season between Oak Hill Academy in Virginia and Christian Life Center in Texas, is the closest to fit that description among the incoming recruits. He averaged 16 points at his final stop and is ranked No. 34 in the nation by Rivals.
The other recruits, point guard Naadir Tharpe and power forwards Braeden Anderson and Jamari Traylor, don't project as big scorers early in their careers.
A ranking of the players with the best chance to lead KU in scoring in 2011-2012:
Robinson: Points won't be as easy to come by without the Morris twins attracting so much attention from defenses and so skillfully setting up teammates with their exceptional passing ability. Defenses will pay more attention to Robinson, who averaged 20.8 points and 5.6 personal fouls per 40 minutes played last season. There isn't a better rebounder in the nation, so he'll score plenty on put-backs and is so much faster than most big men he'll get his share in transition as well. His mid-range jumper, which showed signs of becoming reliable, should get better and make him tougher to defend. If Robinson can cut down his fouls so he doesn't lose playing time and can again make a significant improvement shooting free throws — he went from 39.5 percent to 51 — he's the best bet to be the team's top scorer.
McLemore: No freshman has led KU in scoring since Brandon Rush (13.5) started in 2005-2006 his streak of three consecutive seasons at the top. If McLemore defends well enough to merit major minutes, he could do develop into the top scorer.
Tyshawn Taylor: A career 36-percent three-point shooter, most of his long-range buckets came when the defense begged him to shoot. Maybe hand surgery will improve his shot, but not likely to the extent the three becomes a big part of his game. Finishing at the hoop and cashing in on the line is where he can pile up points because he's so quick he'll get past his man and defenders will fly at him. He can pad his scoring totals by improving on last season's career-best .724 free-throw percentage. The team has its best chance at overachieving if Taylor's the leading assist man and somebody else emerges as the go-to scorer.
Travis Releford: How much will he play? Where will he play? The first question isn't as difficult as the second. He'll probably play a lot, based on how well he played before suffering an ankle injury, after which he had trouble getting back into the rotation. Where he plays could be determined more by others than himself. If Jeff Withey doesn't do the things coach Bill Self wants to see out of him and didn't see the past two seasons, the Jayhawks could put a premium on trying to go by and around defenders instead of over them. In other words, they could go with a really small lineup up front. Think maybe Kansas could force a few turnovers and beat teams down court in both directions with a starting lineup of Taylor, Elijah Johnson, McLemore, Releford and Robinson?
Johnson: He played with so much more confidence and so much more efficiently when Taylor served his late-season suspension than he did as a reserve before getting that chance. Still, leading the team in scoring is a bit of a stretch.