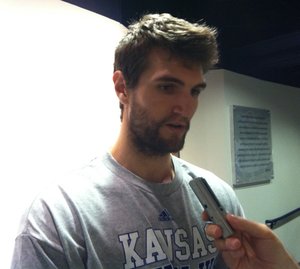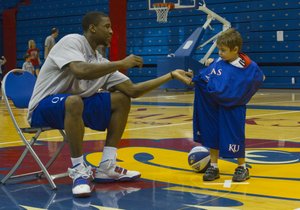 Jeff Withey and Jordan Juenemann, who had just returned to the United States after a 20-hour travel day, weren't too tired to work as counselors Friday night at Bill Self's parent-child basketball camp.
The Kansas University basketball roommates were all fired up, perhaps still on an adrenaline rush after helping the United States to a 7-1 record on a two-week Athletes In Action sponsored trip to Macedonia, Greece and Kosovo.
"It was awesome. I had a great time. I'll remember it for sure the rest of my life," 7-foot junior center Withey said.
On the court, he averaged about 10 points a game (he had 18 points and eight boards one night). Off the court, he soaked in the sights.
"We went to some ruins in Greece, went to the Aegean Sea," said Withey. He actually swam in the sea with teammates Juenemann, Austin Dufault (Colorado), Langston Hall (Mercer), Corey Jefferson (Baylor), Jake Kitchell (Indiana State), William Mosley (Northwestern State), Will Spradling (Kansas State), A.J. Walton (Baylor) and Scottie Wilbekin (Florida).
It was a faith-based trip in which the players held regular Bible study sessions — one of the spiritual highlights was a trip to a monastery in the mountains built in the 11th century.
"I went to speak at a high school in Kosovo with Jordan and Will Spradling. It's against the law actually to speak of your faith over there. We weren't allowed to do that," Withey said. "We were able to talk to the teachers a little bit. They were Christian.
"I had a great time with basketball and religiously a great time, too, bonding with other Christians," Withey added. "It was good to have time to get away from all the distractions. You can't use your phone. We had no signal for the Internet. It was a good time to get out of technology. I had a lot of time to read."
Withey — he said he currently weighs about 230 pounds — said playing a lot proved beneficial to his overall game. A reserve last season, he's going to be counted on for major minutes his junior campaign.
"I got to play a lot of defense and block a lot of shots," Withey said. "I think I did that the best. The European game is a bit different game from the U.S. game. It's hard to post up over there, the key is so much bigger. It's easier to get three-seconds called on you. I got to work on sealing people off, working on my midrange game a little bit, things like that."
He's ready for a lot of basketball this summer.
"Lift a lot of weights and work on my game," he said. "I don't have any big plans for traveling or anything."
He's traveled enough for a while.
"It makes you really glad you live in the U.S., definitely," Withey said. "The way they live is a lot different than us. We sometimes take things for granted. I'm glad to be home for sure. I definitely was homesick."
Blog writer: Juenemann, a KU senior walk-on from Hays, wrote a blog on kuathletics.com during the trip. He said the squad's coach, Tim Maloney of Baylor, was impressed with Withey.
"He is all business and teaching us much about the game," Juenemann wrote of Maloney. "Jeff (Withey) is really shining on the court. He is having so much fun and really showing everybody how he can play. Coach wants us to really get out and run and play fast. We are running the number system and filling the lanes. Jeff really gets up and down well. Coach loves his length. He has him stand and reach up to touch the backboard, just amazed at how high he can reach up."
Selby in New York: Former KU guard Josh Selby worked out for the New York Knicks on Friday in front of his buddy, fellow Baltimore native Carmelo Anthony.
"He told me he'd be watching. He told me to do what I do and everything would be fine," Selby said in an interview on nba.com.
"Yes," Selby added, asked if it would be a "dream" to play with Anthony. "I would love to play here at Madison Square Garden."
The Knicks pick at No. 17 overall. There's been talk that Anthony wants the squad to select Selby.
"My relationship with Carmelo Anthony ... it is a mentor thing. He makes sure I am staying focused, staying grounded, steady working on my game," Selby said. "It's great having a big brother like that who is in that type of position where you want to be. It's awesome having Carmelo in my circle."
More like this story on KUsports.com