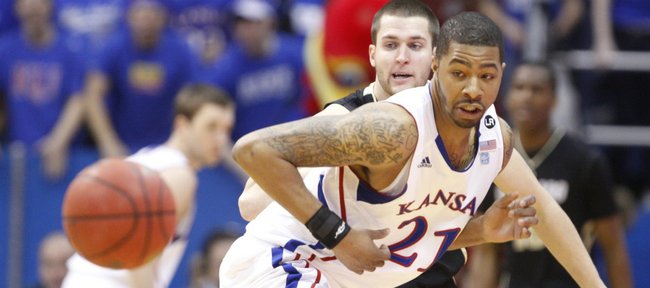 Markieff Morris didn't actually see NBA Hall of Famer Michael Jordan enter the Charlotte Bobcats' practice facility on Thursday morning.
A sixth sense told the former Kansas University power forward that the Bobcats' owner had arrived.
"I felt it when he came in the gym. I felt his greatness when he came in. I just felt it the whole time," said Morris, who eventually spotted the former Chicago Bulls phenom observing Charlotte's pre-draft workout of six players.
Morris was asked what "greatness" felt like.
"The lights brighten and you just feel, like on your back, somebody is there," Morris said in an interview available on nba.com.
The 6-foot-10 Morris likes the idea of playing for Jordan's Bobcats, especially considering the team has two first-round picks — Nos. 9 and 19. Markieff is holding out hope that he and his twin brother, Marcus, might wind up on the same squad.
"If it happens, it happens," Markieff said. "This would definitely be a place we both would want to play or one of us would want to play."
Cleveland (Nos. 1 and 4), Minnesota (2 and 20), Utah (3 and 12) and Washington (6 and 18) are the only other teams with two first-round draft picks.
"Markieff is a very good shooter," Charlotte coach Paul Silas said after the workout. "He was tough and understands how to play the game. I think that he has a chance to really be good in this league. He played very well."
Other players at the workout: Angelo State's LaMarshall Corbet, Morehead State's Kenneth Faried, Southern Misssissippi's Gary Flowers), Southern California's Alex Stephenson and Clemson's DeMontez Stitt.
They noticed Air Jordan as well.
"I was actually nervous, extremely nervous," Faried told the Associated Press. "Michael Jordan — I have his sneakers on."
Selby update: Former KU guard Josh Selby will work out for the New York Knicks today.
Daniels update: There's still no word on where prized prospect DeAndre Daniels will play college basketball next season. Daniels, who is Rivals.com's No. 10-rated player nationally in the recruiting class of 2011, has a list of KU, Texas, Oregon, Oklahoma State and San Diego State. Zagsblog.net reported Thursday that UConn has tried to enter the mix. UConn coach Jim Calhoun has yet to announce whether he'll be back next season.
As far as Daniels' whereabouts ... "He's here," IMG Academies director of basketball Andy Borman told SNY.tv Thursday from the school in Bradenton, Fla. "We love him. We have no comment on DeAndre's recruitment and there is no timetable."
More like this story on KUsports.com