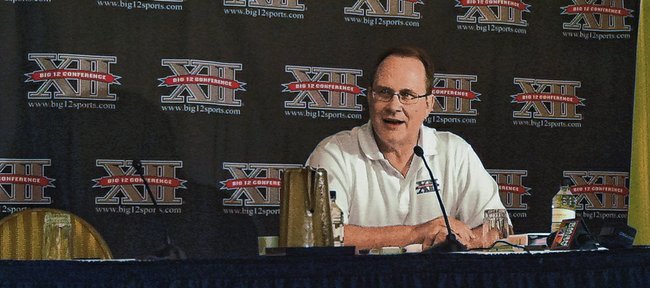 Kansas City, Mo. — Big 12 Commissioner Dan Beebe has known Kansas University athletic director Sheahon Zenger long enough to offer up some friendly advice following Wednesday's second day of the conference's spring meetings at the Intercontinental Hotel near the Country Club Plaza.
"He's gotta learn to not wear a tie at the meetings," Beebe said.
In town to tackle the annual gathering which typically covers everything from rule changes and personnel moves to discussions about the future and the changing landscape of college athletics, Beebe received a firsthand look at how Zenger fit in with the rest of the conference's ADs on one of the league's biggest stages.
Early returns seem to indicate Zenger looked right at home.
"At this point, he's primarily just listening," Beebe said. "When he does make a remark, it's poignant, and he's on point, but he's primarily taken the view that he's gonna absorb everything. And I think that's wise because then you get a feel for how things are conducted, and you don't act like you already know."
Beebe and Zenger first met when Zenger worked in the athletics department at Kansas State University (2001-05) under then-athletic director Tim Weiser. It didn't take long for Beebe to learn to like him.
"He's not an unknown to me," Beebe said. "I got to know him a little bit when he was at Kansas State and really liked him and thought well of him."
Beebe followed Zenger's career at Illinois State from afar, and the two occasionally crossed paths at various NCAA functions. Each time, Beebe came away impressed with the way Zenger conducted himself despite being affiliated with a so-called mid-major school that operated miles away from the limelight and luster to which the power conferences were accustomed.
Armed with info on the early stages of Zenger's career, Beebe figured it to be a home run for Kansas when he heard that Zenger had been named KU's new AD. Just a few months — and two days of Big 12 spring meetings — into the job, Zenger has operated the way Beebe remembered.
"He's doing exactly what I thought and anticipated," Beebe said. "He's a great administrator, and I think Kansas is very fortunate to have a fellow of that kind of strength and vision and ability as their AD."
One year ago, when Beebe and the Big 12's ADs, chancellors, presidents and faculty representatives met in the same hotel, the meetings were much more heated, and the very survival of the conference was at stake.
This year, even though Colorado (now in the Pac-12) and Nebraska (Big Ten) are no longer with them, those in attendance this week talked glowingly about the unity and camaraderie that existed between the 10 remaining schools.
"Certainly it's a much more together atmosphere than we had a year ago," Missouri AD Mike Alden said Wednesday. "And it's nice because, for all of us working together and moving it forward, it's nice to be much more proactive than being reactive. That's kind of how it felt a year ago, and today it's much, much different than that."
The survival of the Big 12 did not come without a few headaches. Many of those have been addressed this week and will continue to be hammered out as the meetings wrap up today and Friday.
For Beebe, once considered a lame-duck commissioner and now charged with leading the new-look league into a bright and prosperous future, blazing new trails has been rewarding.
"Now I can say this," Beebe said. "I was always a little bit jealous of the Pac-10. They have the round-robin in football, and I grew up in that part of the country, so it's interesting that I get to lead a conference where what I always thought was pretty cool — having a complete round-robin and one true champion and a double round-robin in basketball and other sports — is what has come to fruition here. So it's exciting that it's come to that."