Videos
KU defensive coordinator Carl Torbush retires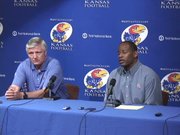 KU defensive coordinator Carl Torbush announced his retirement Tuesday, May 31, 2011 after being recently diagnosed with low grade prostate cancer. Head coach Turner Gill named cornerbacks coach Vic Shealy as the new defensive coordinator. Defensive line coach Buddy Wyatt has been promoted to co-defensive coordinator.
A reporter approached retiring Kansas University defensive coordinator Carl Torbush, who seemingly sensed the young man's unease over having to ask questions about the football coach's cancer diagnosis.
"You need to smile," Torbush told him Tuesday in Mrkonic Auditorium. "You look better when you show some teeth."
It was the friendly ball coach's way of cutting the tension and replacing sadness with some cheer. Torbush revealed he is retiring because he has been diagnosed with prostate cancer and will undergo surgery.
"You hear the word cancer, and all of us, including myself, think of death or dying, and that's not true," Torbush said. "This is a low-grade situation. If I do what I'm supposed to do and the doctor gets done what he's supposed to get done, I ought to be free and completely ready to go again."
By "go," Torbush didn't mean coach. He meant do more of the things he had to do less of when working.
"I love riding them WaveRunners," said the Southern gentleman. "I like getting on a pontoon boat. I like getting on the lake and jumping in the water. I still love playing baseball. Somebody asked me how long I'll play. I said I'll probably play until the day I die or get hurt."
Or until he gets cut.
"No," he corrected. "If that happens, I'll buy a team so I can play."
A base-runner trying to steal on Torbush at this point of his baseball career has a better chance of getting thrown out by the umpire than the catcher, but that wasn't always the case. Torbush, 59, earned NAIA first-team All-America honors in football and baseball at Carson-Newman College in Jefferson City, Tenn. He played a year in the Kansas City Royals system and was a head baseball coach (Southeastern Louisiana) before he was a head football coach (Louisiana Tech, North Carolina).
On his way out of his year-and-a-half stay on Turner Gill's staff, Torbush bemoaned the lack of patience in today's world.
"I know people don't want to hear it, but they need to hear it," Torbush said. "I know boyfriends and girlfriends who don't even talk to each other. They text to each other. I call it the MTV society. Everything is, 'What have you done for me lately?' and, 'Make it work right now.' The days of real, true patience are gone."
Torbush said coaches used to be granted a three-year honeymoon, and then needed to show progress in the fourth and fifth years.
"I don't think that happens anymore," Torbush said. "In that third year, you need to start showing progress or sometimes you don't get a fourth year."
Patience levels have changed, but the time needed to establish a program hasn't. It still takes five years.
"There are certain programs in the country, very few of them, you ought to show progress immediately," he said. "Probably 95 percent of them, that's not true."
Torbush said the last two recruiting classes have upgraded the speed and athleticism of the team, and he added it takes four such classes in a row.
"You better be able to do that because the conference isn't split anymore," he said. "You're getting ready to play them all. You know what that means."
It means patience is in order.