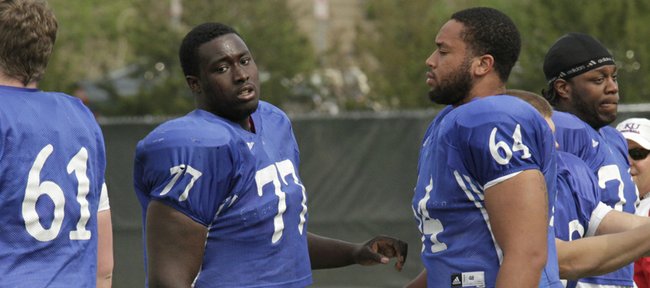 Dallas — A few weeks ago, Kansas University senior Tim Biere was taken aback by a string of words that came out of the mouth of fellow senior Jeremiah Hatch.
"It was in the weight room. I was standing by the scale, and Hatch came over and said, 'I'm the biggest loser, I'm the biggest loser,'" Biere remembered. "I was just like, 'What?'"
Contrary to how it might have sounded, Hatch actually was celebrating. For the first time in what surely seemed like years, the offensive lineman from Dallas stepped onto the scale and saw his weight register a number that began with a 2. Like the contestants on the popular television show "The Biggest Loser," Hatch, who said he watches the show, took great pride in seeing that.
"We play around a lot," he said. "So they were just like, 'Hey, Hatch, you're the biggest loser.' But that moment was real."
And it led Hatch to Dallas, where he spent Tuesday as one of three players representing KU at Day Two of the Big 12 media days.
Six months ago, Hatch's presence here was a long shot at best. He was injured, out of shape and, quite frankly, not ready to face the kind of media barrage that comes with the showcase event.
Pound by pound, that all changed. But don't take Hatch's word for it. Or Biere's. Look to the words of the one person in this world who knows Hatch best: his mother, Shannon McNeal.
McNeal first learned her son was coming to Dallas this week when she received a Google Alert about Hatch's spot alongside seniors Biere and Steven Johnson as the faces of the 2011 Jayhawks.
She has talked to him a lot in the past six months, but only seen him a couple of times. When she first laid her eyes on her 6-foot-3, 290-something-pound monster of a son on Tuesday, McNeal saw the hard work through his trim frame.
She also saw pride.
"I think he's just enjoying the fact that it's his senior year, and it's a step forward," McNeal said. "He had to make a decision, 'Am I gonna go forward, or am I gonna go backwards?' We talked about it, and I just said, 'Babe, if you want to do this, you gotta lose the weight.'"
Done. But it's not like dropping 40 pounds was akin to moving mountains. As Hatch says, "Losing the weight was not hard. Ever since I've been here I've lost weight. The thing has been gaining it back. There was no doubt that I could lose the weight, it's just about keeping it off."
Call it a sense of urgency or blame it on the flicker of light that's now visible at the end of Hatch's college career. Whatever it was, it inspired Hatch to kick old habits and, just like that, everything clicked.
"They told me, 'Hey, just be consistent,'" Hatch said of the message from his coaches. "So I got on a plan and kept my eye on the plan. I just kept saying, 'Hey, it's time.'"
Hatch didn't do this alone. He credits KU coaches John Williams and J.B. Grimes for helping him set the goal. He credits his family and his faith for helping him attack it. And he tips his cap to his teammates, guys he's shed blood and dripped sweat with, for not letting him fall short.
"Jeremiah Hatch has really come a long way," offensive-line coach Grimes said. "About this time a year ago, it was not good. It was about as bad as it gets. He was in bad shape, his back was hurt, his knee was hurt, and he was carrying an extra 45 pounds. Now I can wrap my arms around that young man. I couldn't be more proud of that kid."
Through Hatch's eyes, his version of "Extreme Makeover: College Football Edition" is nothing to celebrate. He's happy because he's healthy, 100 percent, he says.
"Jeremiah's always been a person who loves himself," McNeal said. "It wasn't, 'I'm miserable, so I gotta lose the weight.' It was more, 'I gotta lose the weight because I've got a back problem' and things like that."
For him, losing the weight was something he ought to do. After all, he knew what was holding him back.
"We just couldn't count on him," Grimes said. "It's totally the opposite right now."
Tuesday, KU coach Turner Gill explained how.
"He really has matured just in the year I've known him," Gill said. "He probably was a little more reserved than I wanted him to be, but if that's who he is, that's who he is. But I've seen him kind of get out of that shell a little bit. He's a different guy from last year to this year. There's no question about it. In every way: as a football player, as a person, academically, everything. He's a different guy, and we anticipate him having a great year,"
Hatch doesn't need a plaque, heavy praise or even a pat on the back to feel good about getting into better shape. Heck, we're talking about a young man who didn't even get overly excited on Christmas morning growing up. Most of the time, he slept right through it.
So you can see how dropping a few pounds that he shouldn't have been carrying to begin with would not be something to sing and dance about, even if his teammates and coaches seem quite impressed.
"I appreciate the support," he said. "I love the university. It's taught me and grown me from a high schooler to a man. So any time I have the chance to represent the university, it's all smiles."
Those smiles meant a lot to McNeal, who made her way to the Westin Galleria in Dallas on Tuesday to spend whatever free time she could with her son. Just watching her look at him said it all.
"I see that he's proud of himself, and he's happy he's doing good," McNeal said. "He's always questioned, 'When is it gonna get hard?' But I've always told him, 'Baby, if you're blessed and you stay humble, it just goes your way. You're gonna have to work hard, but things will go your way.'"
The 299 on Hatch's scale is proof of that. The rest is still ahead.