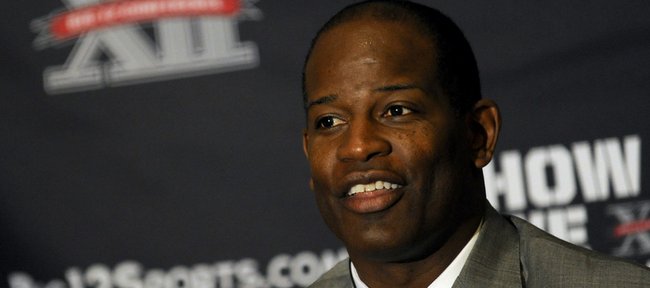 Dallas — Since the day he arrived in Lawrence as the head football coach at Kansas University, Turner Gill has talked the talk.
He often has dropped words like "championships" and "dynasty" and, anytime people have asked, he has stuck by them and emphasized that winning, and winning big, was and always would be one of his top goals.
Speaking to a small group of reporters at Day Two of Big 12 media days on Tuesday, Gill continued to push such thoughts.
"I think every single year we're gonna have a chance to win a championship because if you get on a roll, you see things can happen," he said.
For a brief moment after he uttered those words, he backed off and explained that he understood the reality of the situation.
"My expectation is to win the Big 12 championship," he said. "To say what is probably a true reality of being successful, it's being bowl-eligible. That's what I expect for us. Whether that happens or not, I guess that's why they play the games."
Gill then took that a step farther.
"I'd be disappointed if we don't get this done fairly quickly in terms of being bowl-eligible," he said. "Whether that's gonna happen this year, I don't know. But I definitely know here in the next few years we should be able to get some things accomplished."
Brock talk
With new information about the legal trouble surrounding Brock Berglund seeming to pop up every day, Gill offered his thoughts about his incoming freshman QB from Highlands Ranch, Colo.
Asked if it were realistic to think that Berglund — or fellow freshman Michael Cummings of Killeen, Texas — could overtake sophomore Jordan Webb in four weeks of preseason camp, Gill left the door cracked.
"Anything can happen," he said. "I've seen it. I'd say it's a chance. I'm open to it, first of all. But, again, I'm not going to put somebody in there who isn't ready. I'm not going to do it just to be doing it. I'm here to win football games, and I'm here to put the best people out there that give us the best chance to win."
Gill has said he would handle whatever discipline may come Berglund's way internally. He reiterated that stance Tuesday and then sent a subtle tip of his cap to the rest of the Class of 2011.
"I'm not gonna share how we're gonna handle our business, but I'm gonna handle that the right way," he said. "Brock is just one guy on our football team. We've got other quality people on our football team and a lot of other quality young guys who are gonna be very, very important to our football program."
Webb in good shape
Though Gill has not announced him as his starting quarterback officially, it continues to look as if the job is Webb's to lose.
Webb, a sophomore from Union, Mo., started seven games last season. His season had as many good moments as bad.
This offseason, Gill and offensive coordinator Chuck Long have lauded the sophomore QB's improvement and newfound maturity.
Tuesday, asked about his quarterback situation, Gill said he'd give the ball to Webb if they had to play today. But they don't. Camp doesn't open until Aug. 3, and the season opener is a month after that.
"With Jordan Webb, I just want to make sure, as he comes back from spring football the first couple weeks, is he still at that same high level?" Gill said. "Because that's important. Every week I want to see him being consistent. He's had more reps, and we shouldn't see as much of the up-and-down inconsistency."
Gill likes league's new look
Two of the hottest topics at this year's media days were the controversy over the birth of The Longhorn Network and the adjustment the Big 12's 10 remaining members face as they prepare to enter the first season of round-robin play.
Gill had little to say about the network but was happy to chime in on the advantages of the new setup.
"I think that's a plus for the Big 12 Conference," he said. "Now we're going to know each other a little bit deeper, not only from a football standpoint. Now you know each other, the teams, how they are, what they do, and you get to know the players even better."
Thorson inks with Cards
Milwaukee Journal-Sentinel reporters Tweeted on Tuesday night that former KU offensive lineman Brad Thorson had signed a free-agent deal with the NFL's Arizona Cardinals. Thorson, a native of Mequon, Wisc., began his college career at Wisconsin.