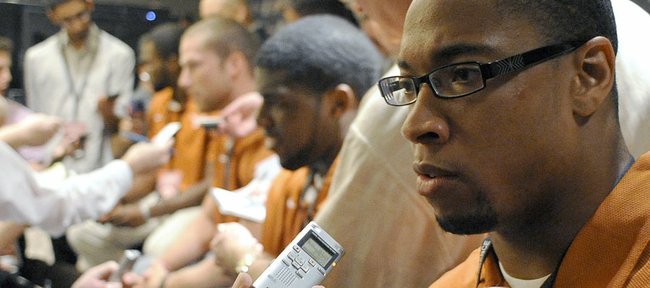 Dallas — Those who stepped to the podium before him did their best to bite their tongues. Missouri coach Gary Pinkel chose not to.
Responding to questions about what was easily the most talked-about topic at Day One of this year's Big 12 media days at the Westin Galleria, Pinkel left no doubts about how he felt about the birth of The Longhorn Network and the desire of its creators to televise high school games along with University of Texas athletics.
"First of all, I have no control over that," said Pinkel, beginning with a paraphrased version of what the rest of the league's football coaches said throughout the day.
Then came the hammer.
"It's a lack of common sense there to think that the network, the university network, can show high school games on their network," Pinkel continued. "To me, there's no common sense there."
Right or wrong, Pinkel, who later in the day called the same thought "ludicrous," was by far the most outspoken coach about the issue. Even Texas A&M;'s Mike Sherman, the head coach at the school that has made the most public fuss about the situation, pulled back the reins in his comments to reporters.
"I've got enough on my plate to get my team ready to play," Sherman said. "There will be half a million Aggies watching it. Truthfully, I'm just focused on what I have to do. I'm focused on my job and winning the first ballgame. I'm sure you guys can sort that one out yourselves."
Pressed to expand, Sherman went a little deeper, but not nearly to the level of Pinkel.
"I would hope the NCAA would look at it objectively and come to the conclusion that many have," Sherman said. "That may be an enticement for a young man to attend a university."
While The Longhorn Network's plans and mere existence have ruffled a few feathers, the questions surrounding the new network — scheduled to launch Aug. 26 — only scratched the surface of topics at the first Big 12 media day in which the number of teams in the league did not match the number in the name.
Absent were Colorado and Nebraska, former members of the Big Eight, who bolted for the Pac-12 and Big Ten, respectively, this offseason. In their place were a group of universities that, just one year ago, seemed completely unified, and now is facing all-too-familiar questions about the future. Though many of the coaches in attendance Monday admitted to keeping one eye on what's happening with The Longhorn Network, none seemed overly concerned about its impact on the conference's well being.
"My antenna went up when I heard about that situation," Oklahoma State coach Mike Gundy said. "But I have faith in the ADs in this league and in the Big 12. We'll make the right decision on that."
Added Baylor coach Art Briles: "Maybe I'm different on it. I don't know. Do I worry about it? Not a bit."
While the rest of the conference digs in to ensure that the already-powerful Longhorns don't gain any unfair advantages, UT coach Mack Brown continues to applaud his university's efforts.
"Number one, I think you have to give credit to the regents at Texas, to president Bill Powers, for pulling off a partnership with ESPN and college football. What an unbelievable thing they did," Brown said. "It's amazing to me, and I'm very proud of them. I think you gotta give them credit. It was available to everybody. And they pulled it off."
In a more defensive tone, Brown continued: "I can tell by the work that we've put in in the first six months, it's not going to be an easy partnership, because they're paying us $300 million for access, and we gotta figure out how much access we can give them and not hurt our chance to have an edge to win the game. (ESPN) called me mid-summer and said, 'We want to have your first scrimmage online. Everybody's going to want to see it.' And I said, 'Yeah, Oklahoma, A&M;, Kansas, Texas Tech, they're going to be sitting there grading our practice as we do it. We can't do that.'"
One of Brown's shortest soundbites on the topic may have best summed up the situation.
"In my opinion, it's probably been a little bit overplayed," he said.
Hours later, at a dinner reception in which Big 12 Commissioner Dan Beebe delivered a sort of state of the conference address, Brown's calm demeanor was outdone only by the conference's leader.
"We're going to continue for a while to have to prove to our doubters that we're here to stay, and we're going to be a part of a tremendous landscape in intercollegiate athletics," Beebe said. "We're certainly going to have issues, like all conferences, but we're a tight family that's really come together from a marriage of convenience 15 years ago to a marriage of commitment."
More like this story on KUsports.com