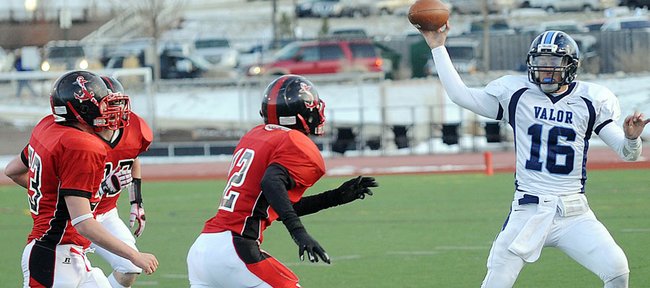 At a pre-trial hearing Monday morning in Castle Rock, Colo., Kansas University freshman Brock Berglund pled not guilty to misdemeanor assault charges stemming from an April 9 incident in which Berglund was alleged to have thrown a punch at another male.
The news was released via written statement from Berglund's lawyer, Kevin McGreevy, early Monday afternoon. In it, McGreevy continued to emphasize that Berglund, 6-foot-4, 205-pounds of Highlands Ranch, Colo., "adamantly denies that he committed this misdemeanor assault."
Berglund initially enrolled in classes in anticipation of participating in spring football, but decided to go home and take classes online. He did not take part in spring football drills. He has spent most of the summer away from Lawrence. Monday's statement said that the three-star, dual-threat QB would report to preseason camp with the rest of the Jayhawks on Aug. 3.
In addition, McGreevy's statement said Berglund would stand trial Dec. 13-14 of this year. The Jayhawks' final regular season game of the year is set for Nov. 26 against Missouri at Arrowhead Stadium in Kansas City, Mo.
The only way Berglund would miss time away from the team because of the trial would be if the Jayhawks are bowl eligible.