Feature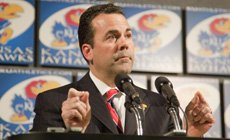 KUsports.com and the Lawrence Journal-World requested all of the contracts handed out to employees of Kansas Athletics before Sheahon Zenger was named athletic director in January of 2011.
New Kansas University Athletic Director Sheahon Zenger may be limited in his ability to make certain coaching changes in the coming years because of contracts signed by former KU Athletic Director Lew Perkins.
Perkins signed three multiyear deals and one extension in 2010, either before or around June 10, 2010, when he announced he would retire effective Sept. 4, 2011, according to documents obtained via a Journal-World open records request of Kansas Athletics Inc.
In his first six months on the job, Zenger has called KU's last-place finish in the Big 12 last year in the all-sport Director's Cup standings "unacceptable," but said he won't be making any head coaching changes for next season to try to improve.
"That's the process we're going through right now, a process of evaluation," Zenger said Friday. "You then address wherever (coaches) feel they need help, and you give them all the support you can. Then you watch and see if you feel that they have the ability to move the program in the proper direction."
Zenger on Friday said he expected when he took the job to have some coaches with years remaining on their contracts. He has not shaken things up in his first months on the job.
"I'm at the beginning of things here. I want to take this next year to particularly evaluate and look at things very closely," he said.
Francis extension
The contract extension Perkins signed that took effect Jan. 1, 2010, was for women's soccer coach Mark Francis, who had his previous contract — set to expire in June 2011 — extended through Dec. 31, 2014. In July 2010, his salary became $136,000 per year under the new deal.Francis' extension was signed April 26, 2010, just before a rough period began for Perkins that included KU announcing that officials with ties to the KU ticket office and Williams Fund had drained at least $2 million in ticket revenue in a scandal that rocked the university. Federal prosecutors later said there was no evidence Perkins "knowingly participated" in the scheme.
Perkins eventually retired from KU one year earlier than he planned. Perkins had other troubles at the end of his tenure. In January, the Kansas Governmental Ethics Commission fined him $4,000 over an allegation he violated a ban on gifts to state officials by accepting free exercise equipment. Under an agreement, Perkins admitted no liability or intent to violate the law.
Hands tied
The 2010 contracts and extension do put Zenger, who Chancellor Bernadette Gray-Little hired in January from Illinois State University, in a tough spot if he decides a coaching change is needed.
For instance, if Zenger decides to release Francis without cause following this season, KU would owe him $408,000 for the final years on his contract.
Under Francis, KU soccer had a winning record in the Big 12 each year from 2003 to 2007. It hasn't finished above .500 in the conference since then. Last year, KU finished last in the Big 12 with a 1-9 record and a 6-13 mark overall.
This wasn't the first time Perkins locked the department into a coach-friendly contract with a struggling program.
KU women's basketball coach Bonnie Henrickson collected base compensation of $1.83 million in 2009, according to the department's IRS 990 form, largely based on a $1.3 million retention bonus before taxes. The bonus was guaranteed to her based on her first contract for staying at KU through April 15, 2009. She received a second $300,000 retention bonus in 2011 after taxes.
In her seven seasons, Henrickson has not taken the Jayhawks to the NCAA tournament, and her teams have never finished with a winning conference record.
Perkins also signed a pair of three-year deals that took effect July 1, 2010, locking up:
KU swimming and diving coach Clark Campbell through June 30, 2013, at $80,000 a year.
Women's golf coach Erin O'Neil through June 30, 2013, at $75,000 a year.
Two other coaches received shorter contracts that also started on that date:
Women's tennis coach Amy Hall-Holt through June 30, 2012, at $67,000 a year.
Men's golf coach Kit Grove through June 30, 2011, at $60,000 a year.
Perkins did not return a phone message Friday seeking comment.
Zenger's deals
How Zenger will handle nonrevenue sports contracts remains to be seen.
On July 1, 2011, Zenger signed off on two one-year contracts: one for rowing coach Rob Catloth and one for Grove. Both contracts expire June 30, 2012.
Both coaches did receive raises: Catloth from $65,000 to $73,000 and Grove from $60,000 to $75,000.
Zenger said Friday that earlier this month he gave softball coach Megan Smith a four-year contract extension. Smith's salary was unavailable Friday, but under the old contract she made $90,000 annually.
"I extended her based upon what I had seen in nonconference play, attendance and culture within the team and her mindset and work ethic," Zenger said.
He also said Smith was "pursued heavily" and offered a position at another BCS school. The softball team started the season 26-3 before beginning Big 12 play last year and finished the season 31-22. Perkins hired Smith in 2009, and she just finished her second season at KU.
Football coaches
Zenger also will be limited regarding changes on the football staff because of extensions that took effect just days before he was hired.
Contracts took effect Jan. 1 that KU interim Athletic Director Sean Lester signed giving one-year extensions for each of the following football assistant coaches: Buddy Wyatt, Robert Wimberly, Vic Shealy, Aaron Stamn, Reggie Mitchell and J.B. Grimes.
KU announced Zenger's hiring Jan. 2, and he appeared the following day at a press conference. The new athletic director's contract began Feb. 2, though Zenger has indicated he worked most days in January at his new job.
Each assistant football coach was previously signed through June 30, 2012, and Gray-Little agreed on the one-year extensions, which are common in college football for recruiting purposes, said Jim Marchiony, a KU associate athletic director who worked under Perkins and remains on staff.
"Essentially, they were heading into the last year of their contract," Marchiony said. "We didn't want to send any mixed messages about our support for our football coaching staff, so we extended them with the chancellor's approval."
Following those extensions, Zenger signed KU receivers coach David Beaty and linebackers coach Vantz Singletary through June 30, 2013. That means contracts for each KU football assistant expire on the same date.
If Zenger decided to make a change regarding any of the assistant coaches after this season, KU would owe the coach 1.5 years of pay. Depending on the coach, that would range from $180,000 to $525,000.
An entire staff change after this season would be even more difficult. KU head coach Turner Gill would still be owed $6 million on his five-year, $10 million deal if he were fired without cause.
If all the assistant coaches were released as well, the total tab would be more than $8.7 million — not including the money needed to hire a new coaching staff.