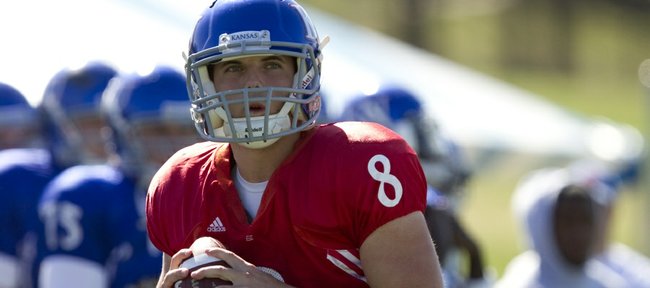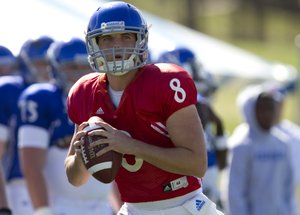 In six games last season, Kansas University quarterback Quinn Mecham was good but not great, solid but not spectacular, and still managed to set a school record for consecutive pass completions (19) and lead the greatest comeback in KU history.
While his performance in KU's 52-45 victory over Colorado in Week 9 of the 2010 season offered a glimpse of his ideal style, KU offensive coordinator Chuck Long said it might not be a good idea to paint Mecham solely as a game manager.
"I'd say this," Long said. "Be careful about doubting Quinn. Because the guy will come out and do something great right before your eyes."
Never was that more evident than in the victory against Colorado, in which KU trailed 45-17 early in the fourth quarter. In that one, Mecham completed 23 of 28 passes — including the final 17 he threw — for 252 yards and two touchdowns while leading Kansas to 35 fourth-quarter points in just his second career start. Most of his success came on short routes and quick throws, as the KU coaching staff dialed up a game plan that suited Mecham's strengths.
In that game, it worked. For much of the rest of the season, below-average arm strength and lack of mobility limited Mecham's effectiveness.
With that in mind, the senior from Provo, Utah, hit the offseason determined to get bigger, stronger and faster.
"Quinn has worked hard on his development, physically, and it's improved," Long said. "He had a much stronger arm in the spring, and I know he's gonna continue to do that in the summer and into the fall. He was throwing the long ball a lot better."
Long also said Mecham's mind — without question his biggest strength — began to process the game even faster than it already had.
Though there has been talk of Mecham's improvement, the result did not show up on the biggest stage of the offseason.
Mecham completed six of 11 passes for 102 yards and a TD while being sacked four times during the spring game in April. Had it not been for an acrobatic catch between two defenders by Christian Matthews on a 53-yard TD, Mecham's numbers would have been less impressive.
Again, Long cautioned reading too much into Mecham's performance during one scrimmage in April.
"The thing with quarterbacks in the spring game is, they're going in with all the players," Long said. "They're throwing and catching with all the guys, young and old, and everyone's trying to kind of find their way. I don't think Quinn really had a good spring game last year, but he ended up having the game of his life against Colorado. The thing about Quinn is, he just works through it. He'll keep working until he gets it right."
That's what gives Long confidence about putting the ball in Mecham's hands, should that become necessary, during 2011.
Mecham is battling with sophomore Jordan Webb and freshmen Michael Cummings and Brock Berglund for the right to be KU's starter this fall. To this point, the competition has been mostly about individual improvement.
Once preseason camp opens Aug. 3, Long expects things to heat up.
"Once they get through the summer and get into training camp and work with the same receivers, it becomes a little different deal," he said. "A lot can happen between the spring game and the regular season."
Mangino kicks off camp
Former KU coach Mark Mangino was one of the featured guests at an NFL High School Player Development Camp in Immokalee, Fla., earlier this week. Mangino, who spent eight seasons at Kansas, kicked off the camp Monday night with a speech that not only talked about the fundamentals of the game but also emphasized the importance of strong character.
After resigning at the end of the 2009 season, Mangino, 54, and his wife, Mary Jane, moved to Naples, Fla., and have maintained a low profile. During the past 18 months, Mangino has dabbled in the football world via consulting. He's been invited to several college campuses to talk offense and even spent time working with the Tampa Bay Buccaneers.
In an interview with the Naples Daily News, Mangino told Adam Fisher that he would be interested in returning to football as a head coach as long as the situation was right, but added that he was in no hurry to do so.
"Naples is a beautiful place," Mangino told Fisher. "My wife and I couldn't have picked a better spot to buy a place and just relax for a little bit. We really like it here. No matter what the future brings, I think we will always have a place here in Naples."
More like this story on KUsports.com