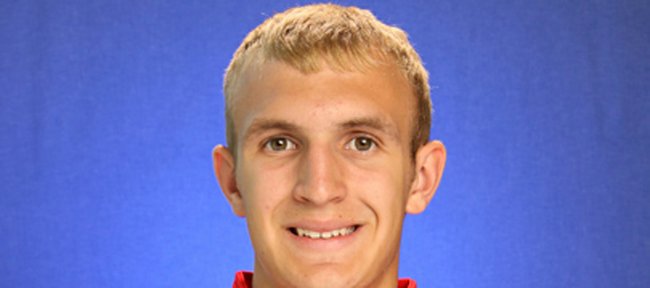 Two years ago — at the age of 13 — Wichita eighth-grader Conner Frankamp received an invitation to work out with the Kansas City Pump N Run AAU team.
He gladly accepted.
"There was a big buzz about him his eighth-grade year, how special he was going to be," Pump N Run coach L.J. Goolsby said of the 6-foot-1 Wichita North junior-to-be, who on Sunday announced his commitment to play basketball at Kansas University.
"It was one of those things we definitely wanted to get involved with Conner, and we've had so many kids from Wichita, it just made a lot of sense. He was a perfect fit for our program and we wanted to make sure he was a part of it."
Frankamp, who was a tad too young to be beginning his AAU career, was an immediate hit at Pump N Run spring and summer workouts.
"He looked like he should be playing for our 16-and-under team," Goolsby said. "We were already full. We didn't want to step on any of our guys' toes. We told him to be patient and sooner or later he'd be a part of it."
Frankamp, who turned 16 on Saturday, has been part of Pump N Run's 16-and-under squad the past two summers. He's fared quite well in both 16-and-under and 17-and-under tournaments.
"He can shoot the ball. That's one of his best attributes," Goolsby said of the player who averaged 27.2 points, 4.2 rebounds, 3.2 assists and 1.8 steals per game his sophomore season at North. He hit 52 percent of his two-point tries, 46 percent of his threes and 89 percent of his free throws.
"But he also creates for other players. That's what makes him really good. You have to get up on him because he can shoot it so well, then he can go by you and create for other guys and make plays."
Goolsby was asked if Frankamp compares to any former college standouts.
"He's a mixture of a lot of different guys. He can score like a Jimmer (Fredette, BYU), makes plays like a Bobby Hurley (Duke)," Goolsby said. "He's still a couple years away (from attending KU). I think he has a chance to be pretty darn special. Anybody who can go in a (Wichita) City League that is pretty good right now and average close to 27 points a game as a sophomore and score 52 points and break a City League record that's been there forever ... he's shown signs he's well on his way."
Frankamp scored 52 points off 18-of-38 shooting (he made eight threes and was 8-of-8 from the line) last season in an 87-81 double-overtime loss to Wichita Northwest. He surpassed the 47-point outing of Wichita South's Ricky Ross, who torched Wichita Southeast on Valentine's Day, 1978.
Frankamp has called that outing, "crazy, surreal," pointing out it'd have been a lot better had his team won the game.
Goolsby is not surprised by that type of attitude from the team-oriented player.
"He is such a competitor," Goolsby said. "That's the funny thing about Conner. He makes sure everybody knows he is one of the premier players. He'll challenge anybody from coaches to players ... it doesn't matter. He wants to let everybody know he's one of the best out there."
Such bravado from a still-developing youngster who Conner's dad, Marty, says weighs all of 155 pounds.
"I don't think when you initially look at Conner ... he walks in the building that you think he's a player. He's kind of misleading in that regard," Goolsby said. "But when he starts to play, you realize how good he is. He has to get stronger and all that, but I think even playing 17-and-under in July, he's been very effective and been able to score and handle the ball and do a really good job for us."
Goolsby said he's thrilled that Frankamp has committed to KU with two years remaining in his high school career.
"He has expressed before how much he liked KU," Goolsby said of Rivals.com's No. 65-rated player in the Class of 2013, who chose the Jayhawks over Oklahoma, Texas, UCLA, Boston College, Kansas State, Missouri, Wichita State and others. "I think that was a pretty easy decision on his part. I'm extremely happy. At the end of the day for us, that is what this is about. We want guys to be able to find a situation they really like. When it happens to be their dream school, it makes it better."
More like this story on KUsports.com