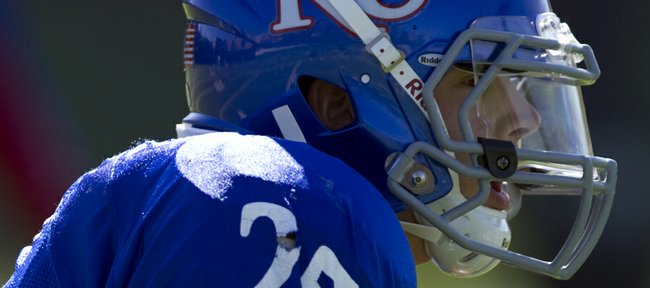 Thirteen weeks after suffering an injury that ended his spring, red-shirt freshman running back Brandon Bourbon appears to be back in action and gearing up for the 2011 season.
Mark Casey, Bourbon's high school coach at Potosi (Mo.) High, said Bourbon was cleared by doctors to resume full football activities about 10 days ago.
Bourbon, 6-foot-1, 208 pounds, injured his leg during spring practice on April 18. At the time, KU coach Turner Gill said Bourbon would be out 6-8 weeks but added that he expected him to return in plenty of time for preseason camp. Casey, who remains in close contact with his former player, said Bourbon was right on track for a full return.
"It seems like he's doing pretty good," Casey said. "He was cleared to go back to full football activities and to do everything that everybody else is doing. I think the injury might have put him a little bit behind. The way he likes to work out, he loves to hit the weight room and really hit it hard, and I don't think he's been able to do it the way that he's used to doing it. But he's still on pretty good track right now."
Although the injury stalled his progress, Casey said Bourbon had shown great improvement from where he was during the spring of 2010 and seemed poised to inherit a bigger role in the Jayhawks' offense this fall.
"Back in spring ball, before Brandon got hurt, I remember talking to (running backs) coach (Reggie) Mitchell about him and he said he was looking the best he had looked through all of spring ball the day he broke his leg," Casey said. "I don't think he feels like he's 100 percent because he hasn't gone out there and tested it in that manner yet. But I think he's feeling really, really close. I know he's biting at the bit to get back out there."
In some ways, Casey believes that fighting through the first serious injury of his football career may have been good for Bourbon, much in the same way that red-shirting was in 2010.
"He's never really been injured before, especially to this extent," Casey said. "So it's just going to make him a stronger person being able to fight through it. Now that it's all over with, he just has that much more experience and he still has four years of eligibility left. I think in a lot of ways, it went the best way it could've gone for him."
One thing Casey believes will help Bourbon is the presence of other talented running backs on KU's roster, guys like sophomore James Sims and freshmen Darrian Miller and Anthony Pierson who can do their part to make sure Bourbon doesn't have to do too much too soon.
"They're similar guys," said Casey of Bourbon and Sims. "And I think they'd put out about the same numbers. That could be a good 1-2 punch. And then, with the youngsters coming in, they could have something pretty special."
Bouncing back from injuries can change the way players approach the game. Some are hesitant and uncertain in their return and others hit the field as if nothing ever happened. Casey said he believed Bourbon would fall into the latter category because of his tenacity.
"I think early on it took him a little while to adjust," Casey said. "Not just to college football but to college life in general. But I think he's kind of gotten over that rookie hump now and he's a lot more comfortable."
Bourbon and his teammates will continue summer conditioning for the next couple of weeks and will report to fall camp on Aug. 3, when they'll begin preparing for the Sept. 3 season opener against McNeese State at Memorial Stadium.