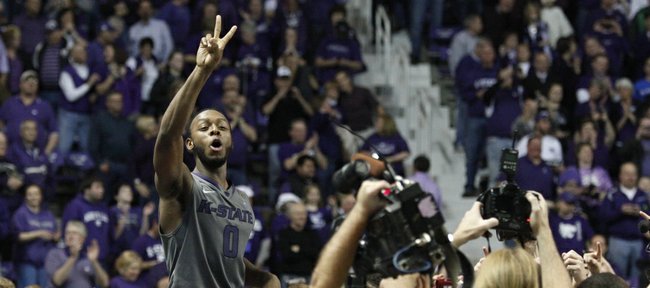 Competing with the Big 12's Oklahoma and Texas schools in sports other than men's basketball always will present a steep challenge for Kansas University.
Recruits tend to want to go to nearby schools. Oklahoma and especially Texas produce far more talented athletes than does Kansas.
In some sports, such as baseball, softball and track and field, weather also works against KU. In some cases, athletic budgets and facilities favor others.
Call them excuses, but to an extent they just as easily could fall under the category of reasonable explanations that play a factor in the Jayhawks finishing dead-last in the all-sports standings.
Yet, it's not difficult to find a counter to the argument geography plays the biggest part in Kansas' failing to compete for any conference titles outside of men's basketball. The excuse falls apart 75 miles to the west, 10 to the north.
Kansas State doesn't have superior facilities to those of KU, does not have as sizeable a budget, has similar weather and is at an even greater geographic disadvantage because it's not as close to Kansas City.
Despite those hurdles, the Wildcats dominated the Jayhawks on the fields and courts of competition during the 2010-2011 school year. In so doing, the 'Cats supplied their athletic director, John Currie, with a chance to boast, although he didn't choose to do so in a tacky way.
In a letter to 'Catbackers dated June 1 and still posted on kstatesports.com, Currie lists the Wildcats' athletic achievements the past year. The final one listed, as if an afterthought so as not to be accused of rubbing it in, reads: "A combined 13-1 record against the Jayhawks in head-to-head competition."
Really? It didn't sound right, but a check of the records shows KU did indeed go 1-13 in the rivalry that desperately needs a nickname better than "Sunflower Showdown."
The loss that stung the most: Kansas State 59, Kansas 7, a Thursday night blowout, Oct. 14, 2010, in Memorial Stadium, during which the players on the home team looked as if they were running in cement shoes, affirming why coach Turner Gill has put such a premium on recruiting faster players.
The lone victory: Kansas 90, Kansas State 66, fueled by Thomas Robinson's 17-point, nine-rebound tribute to all those who supported him through his heartache. The game was played two days after his mother's funeral.
K-State avenged the loss on Valentine's Day, 84-68, when Jacob Pullen juiced Bramlage Coliseum with 38 points.
Kansas State swept two games in women's basketball, executed a three-game sweep in baseball and swept two apiece in volleyball, rowing and women's tennis.
If a coach of a nonrevenue sport chooses to whine about either the local newspaper or the K-State sports website reporting the data, he or she better not do so within earshot of first-year KU AD Sheahon Zenger. He's not going to want to hear it. He's not into using slogans in an attempt to create false perceptions about the state of the athletic department (aside from the perennial powerhouse men's basketball program). Denial's not his game. He's interested in winning, not in offering a shoulder to capture the tears of those too often losing.