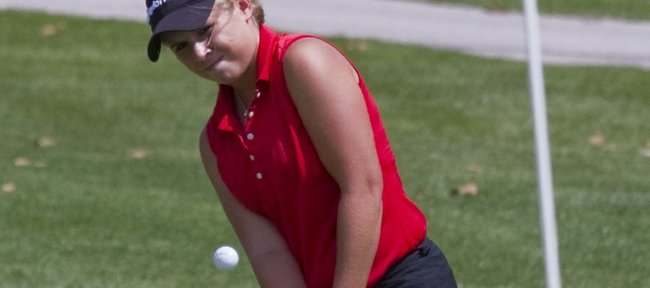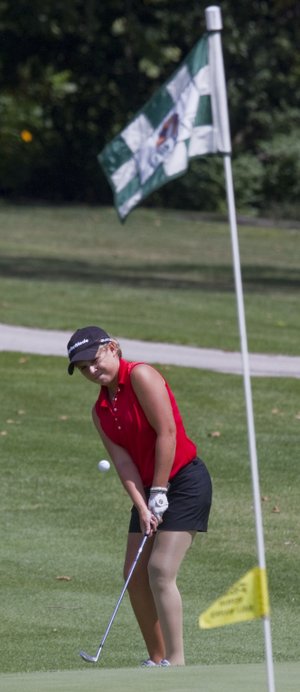 The parents of Mackenzie Thayer refused to take "don't know" for an answer, so the Garden City couple relentlessly pursued a diagnosis for their daughter's problematic left leg.
They took Mackenzie to doctors in Denver, Wichita and Dallas. Still, they couldn't get a specific answer to the condition that restricted circulation in her leg and caused her to limp.
Then one day Sean, former Kansas University golfer and Kansas amateur champion, was sitting in the waiting room of a dentist's office, reading a Golf Week magazine story. It told the tale of golfer Casey Martin, who not long after that cited the Americans with Disabilities Act to successfully sue the PGA Tour in 2001 for the right to use a cart while competing.
The more Sean Thayer read, the more the symptoms of Martin's condition, Klippel Trenaunay Weber syndrome (KTS), sounded like his daughter's. Mackenzie's mom called Martin's mother, and she suggested taking Mackenzie to the renowned Mayo Clinic in Rochester, Minn. It was there that Mackenzie was diagnosed with KTS.
She walks with a limp, always rides a golf cart when playing, and a support hose she wears on her left leg hides visible veins, a trait of the condition. And oh, by the way, she's a scratch golfer bound for Kansas University to play golf after she finishes her senior year of high school.
Thayer successfully defended her Trusted Choice "Big I" state title, advancing to the national tournament in Mississippi by shooting 75 Tuesday and 80 Wednesday at Alvamar public. Her final shot of Tuesday's round was a drained 40-foot putt on hole No. 9.

"Casey's condition is actually worse than mine," Thayer said. "His has bone involvement, and that means his veins have deteriorated his bone, and his bone is so thin and weak if it breaks, he might have to amputate. I'm one of the fortunate ones. I've seen a lot of kids who have it worse than I do, and it's really sad to see what they have to deal with."
For Martin, riding a cart when others walked was an issue with some. For Thayer, though tournament officials must be notified in advance, it's much less so.
"With his Supreme Court case, no one can deny me the right to ride a cart," Thayer said. "There have been some tournaments that have tried to fight it, but once my dad mentions the Supreme Court ruling, there's not a lot anybody can do."
Riding a cart had nothing to do with Thayer, who stands just 5-foot-3, defending her title. Smashing long, straight drives and sinking clutch putts put her atop the leader board. (Audrey Judd of Olathe also qualified in the girls division, shooting 82-79—161).
Thayer, who recently gave an oral commitment to attend Kansas University in the fall of 2012 to play golf, counts her father, Martin and former KU golf coach Ross Randall as three inspirational figures who have helping her golf game.
"My father taught me the game, and I started working with Ross when I was 14," said Thayer, who is staying with Ross and Linda Randall while in Lawrence for the tournament. "They both have the same ideas because Ross taught my dad, and my dad still takes lessons from Ross."
Sean Thayer, now a financial adviser in Garden City, a decade ago tapped one of his golf connections to arrange a phone call Mackenzie will remember for the rest of her life. Sean knew someone who played with Martin on what then was known as the Nike Tour (now the Nationwide) and asked him to see if Martin would phone Mackenzie, then 6. He did, and Mackenzie began writing him letters. Now they're Facebook friends.
Last month, for the first time, she met Martin in person at a golf tournament in Forth Worth, Texas. Martin now coaches the University of Oregon men's golf team and was scouting the same tournament at which Thayer was playing.
"A man took me on a cart out to where he was on the course and said, 'Casey, I have a surprise for you,'" Thayer related. "He took off his glasses and said, 'Mackenzie?' He was completely shocked. He said he didn't know I was there. I started crying. I was so shocked he was even at the same tournament as me."
Still, even if Martin had been the women's coach at Oregon and had been recruiting Thayer, it would have been tough to beat out KU. Sean attended Randall's golf camp in Lawrence at the age of 12. Two years later, when Randall was playing in a golf tournament in Garden City and his wife needed a ride to the airport, Sean proudly informed her that he had just gotten his driver's license and would be happy to give her a ride so that she could catch her flight. All he asked in return was to remind her husband that he one day would like to play for him at KU. Randall didn't recruit him out of high school, but took him as a transfer after he spent a year at Iowa State.
"I was born and raised to be a Jayhawk," Mackenzie said. "Ross and Linda are here. My aunt and uncle live in Kansas City. They don't have any kids, and I'm really close to them. With coach Ross being here, that will help, and I really like (KU women's coach) Erin (O'Neil.)"
Thayer, 17, has one more year of high school golf, where she will gun for the state title that eluded her when a putt on the final hole of regulation lipped out.
In the boys division of the two-day "Big I" tournament, Free State junior-to-be Alex Green by far fared the best of the Lawrence golfers, shooting 77-76—153, good for a tie for ninth place in the field of 74 finishers.
KU recruit David Auer of Wichita won the boys division, shooting 69-70—139 from the back tees, a 7,092-yard course. Parker Miller of Kansas City, Kan., was second (70-71—141), and Alex Forristal (71-71—142) of Prairie Village also qualified for nationals.
More like this story on KUsports.com