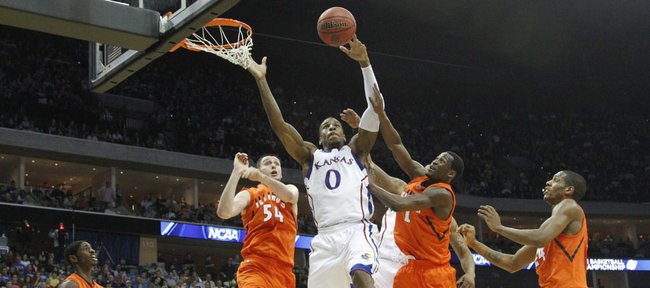 Many wondered why so many basketball players would end their college careers prematurely to enter the NBA Draft when the 2011-2012 season is threatened by a lockout.
Won't they starve to death? Well, no. Financial planners hoping to land them as lucrative life-time clients no doubt are offering no-interest loans hefty enough to support the players for a year. A nice little investment in the future.
Money isn't the issue. Having the opportunity to play basketball against high-level competition in order to improve was the biggest enticement for first-round-caliber talents to stay put.
Thomas Robinson, not nearly as polished, not as complete a basketball player as either Marcus or Markieff Morris, has a higher ceiling than either one, thanks to his phenomenal athleticism. The twins could afford to take the risk because their games are so advanced.
Robinson made a wise decision to stay put, exercising more discipline, more patience than many in a similar position might.
Naturally, the 2012 mock drafts don't reflect Robinson's true value to NBA teams because he's a junior. At this time of year, the mocks always favor incoming freshmen and sophomores. The less they've played, the more the mock drafts love them. And it's not just the draft projections. Whereas in baseball the stars of yesterday are revered and the stars of today often underrated, it works just the opposite in basketball. The guys in short shorts never get their due, and the prospects of tomorrow simply can't miss.
It's been that way forever. Ralph Sampson was going to be so much better than Kareem Abdul-Jabbar, except that he ended up being nowhere near as great.
A look at the mock drafts for two popular NBA Draft websites shows nothing has changed. Draftexpress.com's top 10 projected picks include five incoming freshmen and five rising sophomores. NBAdraft.net has seven freshmen and three sophomores.
No Robinson in the top 10, and even more stunning, no John Henson of North Carolina. The draft sites liked Henson better before he played a college game, but based on his strong sophomore season, it's tough to figure out why.
Draftexpress has Robinson going 16th. NBAdraft.net has him projected at No. 18.
He'll go higher if for no other reason than he's already one of the best rebounders on the planet. Morehead State's Kenneth Faried led the nation in rebounding with 14.5 rebounds per game. He had 16.7 per 40 minutes of playing time. Robinson played just 14.6 minutes a game, and his rebound totals projected to 17.6 per 40 minutes.
Robinson's strength and explosiveness translate to the NBA, where he has a chance to become a Ben Wallace-type force. Wallace was listed at 6-foot-9, 240 pounds during his days with the Detroit Pistons. At the Amare Stoudemire Camp, where Robinson threw down a dunk heard 'round the NBA world, he was measured at 6-10 in shoes and weighed 240 pounds. His wingspan was measured at 7-1.
With one more year under Danny Manning's tutelage and as a focal point in the offense, he's bound to improve rapidly, even if all the attention the defense pays to him makes him look worse at times.
More like this story on KUsports.com