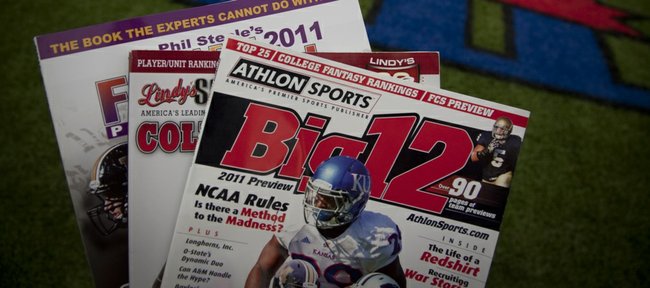 Posting a 3-9 record one season usually doesn't get a team a lot of preseason publicity the next.
The good news for Kansas University football, which won just 25 percent of its games during head coach Turner Gill's first year in town in 2010, is that those preseason magazines that hit news stands in mid-June examine and analyze every Div. I team out there.
However, a quick glance at a few of those publications reveals that's about where the good news stops for Kansas, as Phil Steele, Athlon Sports and Lindy's all picked the Jayhawks to finish dead last in the Big 12 this season.
"Kansas was last in the Big 12 at -219 (yards per game) (and was) outscored by 27.4 (points per game) so they have a huge amount of ground to make up on the rest of the conference," Steele writes in his evaluation of the Jayhawks.
Added Athlon: "Kansas should be more competitive in 2011, but the Jayhawks could struggle to win more than three games."
That outlook should come as no surprise. For starters, the Jayhawks still have question marks at key positions and did very little to answer them in 2010. Beyond that, with Nebraska and Colorado leaving the Big 12, the Jayhawks will play every team in the former Big 12 South — Baylor, Oklahoma, Oklahoma State, Texas, Texas A&M; and Texas Tech — along with the three schools that remain from the Big 12 North — Iowa State, Kansas State and Missouri.
Playing everyone in the conference make the Jayhawks' schedule more difficult, plus it also takes away a precious chance at an early victory by knocking the number of nonconference games from four to three.
The schedule is just one gauge the magazines use to determine their preseason rankings. They also analyze a number of statistical categories including the big ones, such as points per game, yards per game, points allowed and turnovers, along with more obscure stats, such as yard differential per game and an overview of each team's offensive and defensive numbers from the last seven years.
Steele also includes a section in which he ranks each unit, with a one given to the best of the bunch and a 10 to the cellar dwellar. Of the nine units Steele ranked — QB, RB, WR, OL, DL, LB, DB, Special Teams and Coaching — KU did not receive higher than a 7 and also was given three 10s.
The 7s came at running back and defensive back, areas that are unquestionable strengths for this year's Jayhawks. The 10s came at linebacker, special teams and coaching.
Quarterback, wide receiver and defensive line received 9s, while the offensive line was given an 8.
No other Big 12 school was saddled with more than one 10, and all nine others received at least as high as a 4 in at least one category.
In the Athlon unit ratings, KU did not receive higher than an 8 at any position but earned just one 10 (quarterback).
As far as all-conference players, none of the magazines had any Jayhawks on the first team. Tim Biere was named a second-teamer by Steele. James Sims appeared on Athlon's third team and Steele's fourth team. D.J. Beshears was tapped third-team special teams by both Athlon and Steele, and Toben Opurum, Jeremiah Hatch and Steven Johnson also earned all-conference nods.
As for breakout player, freshman running back Darrian Miller, of Blue Springs, Mo., is the preferred pick there, with linebacker Darius Willis, a transfer from Buffalo, also receiving a mention.
In addition to picking the Jayhawks to finish last in the Big 12, the publications also seem to agree that three is the ceiling for KU's win total this year.
In his Phil's Forecast segment, Steele says, "Although this is a much stronger KU team with 15 returning starters in Gill's second season, the schedule does them no favors and they will struggle to top last year's three-win total."
Athlon, which ranks KU 81st nationally, predicts a 3-9 overall record and 1-8 mark in conference play. Lindy's did not offer a prediction for KU's record but seemed to be in line with the others by saying, "Turner Gill has his work cut out as Jayhawks staring down the barrel of another losing season."
Don't put too much stock into what these magazines say, however entertaining they might be. Most years, they possess a few reaches and some out-dated information, largely because of the early print deadline.

Some of this year's highlights include: from Athlon Sports: "Nobody is saying it, because it isn't the kind of thing you say about freshmen in spring ball, but Brock Berglund is the favorite to be Kansas' starting quarterback." Steele also lists Berglund ahead of Webb, but sophomore Jordan Webb currently leads in that race. And, from Lindy's: "Defensive coordinator: Carl Torbush." Torbush retired this spring because of health issues and was replaced by cornerbacks coach Vic Shealy.
Though most painted a gloomy picture for the Jayhawks this season, the news wasn't all bad. Lindy's praised KU's secondary by saying, "All four secondary positions feature players with strong ball skills, good speed, a knack for making plays and very high ceilings." Lindy's also included two KU games in its "The Big Ones" section, which highlights the top Big 12 contests of 2011. The two that earned the nod on KU's schedule? Home against K-State on Oct. 22: "Sunflower State showdown always big, regardless of records," and Nov. 26 vs. Missouri: "Fifth straight time these two will meet in Arrowhead."