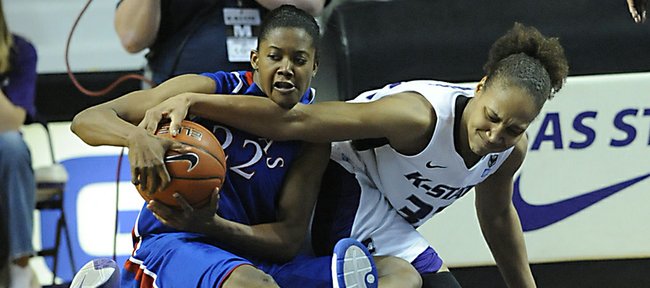 Manhattan — Winning on the road in the Big 12 is hard enough without trying to do it with your leading scorer on the bench.
That's what the Kansas University women's basketball team was forced to do Saturday at Bramlage Coliseum, where foul trouble and an off night from sophomore forward Carolyn Davis helped Kansas State top KU, 65-60.
"We just came up a couple possessions short," KU coach Bonnie Henrickson said. "In a one-possession game, that's just gut-wrenching. It's progress. It's not good enough, I promise you. But it's progress, just from a dig-down-and-compete (mentality)."
Coming into Saturday's game, Davis was averaging 18 points, eight rebounds and 30 minutes per game. Saturday, thanks to two fouls in the first five minutes, she was limited to nine points and one rebound in just 19 minutes. After picking up her second foul at the 4:47 mark of the first half, Davis went to the bench and did not play again until the second half.
Davis' absence, along with red-hot three-point shooting by the Wildcats, allowed Kansas State to build a 34-26 halftime lead.
The halftime deficit would've been worse had it not been for Monica Engelman's three-pointer at the buzzer. Still, with Davis out, the Jayhawks struggled to score.
"It hurt, certainly," Henrickson said. "A big chunk of the playcard is her primary look and secondary look, but that happens, and we'll learn from it, and she'll learn from it."
Though she admitted to being frustrated by foul trouble, Davis said she focused on remaining mentally strong.
"It was tough to sit that long," Davis said. "I tried to stay in the game, and I was cheering my teammates on and coaching (them). But it was tough. I was hard on myself at first, but I didn't want to take myself out of the game, so I tried not to think about it too much."
Kansas State opened by hitting three of four three-point attempts in the game's first 10 minutes. They closed it 6-of-12 from behind the arc and also nailed 19 of 30 free throws, compared with just 12 trips to the free-throw line for KU.
Despite the statistical disadvantages, KU remained in the game, led by the soft scoring touch of Engelman, who led Kansas with 18 points on 8-of-11 shooting.
"I just stepped up," Engelman said. "I still had confidence in my teammates and didn't feel any burden."
After one of three straight buckets by Engelman, a layup by Davis cut the K-State lead to 41-40 with 12:38 remaining. The Jayhawks (14-7 overall, 1-6 Big 12) were unable to creep closer, as KSU's leading scorer, Brittany Chambers, drained a three-pointer on the next possession after KU failed to secure the rebound on the initial miss.
Three Jayhawks — Davis, Engelman and Jackson — fouled out and were forced to watch as KU's furious, final-minute rally fell short. Marisha Brown, praised by Henrickson for her effort and intensity, hit a three-pointer from the corner to cut the KSU lead to 63-60 with 14 seconds to play. But Mariah White's second of two free-throw attempts sealed the KSU victory.
Sophomore Taelor Karr led K-State (15-6, 5-2) with 19 points, and junior Jalana Childs added 18. Free State High product Chantay Caron started and drilled a three-pointer in the opening minutes.

The loss marks KU's fifth consecutive conference loss and the 10th straight time the Jayhawks have left Manhattan after a defeat.
Henrickson said the losses were beginning to wear on her team and that the pressure to crack the win column again was intensifying.
"It grows every day," she said. "We just gotta find a way to win, and we'd all feel better."
KU will play host to Colorado at 7 p.m. Wednesday at Allen Fieldhouse.