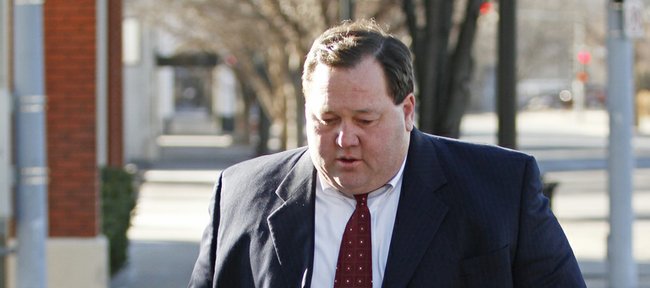 Wichita — Tom Blubaugh pleaded guilty Friday to his role in a scam to steal tickets and share in more than $2 million of illegal proceeds generated by selling KU basketball and football tickets through brokers and others.
The admission of guilt came in the same courtroom and a day after his wife and former boss of the KU ticket office, Charlette Blubaugh, likewise pleaded guilty to conspiracy to commit wire fraud.
The Blubaughs each face up to 20 years in prison, fines of up to $250,000 and are on the hook for a monetary judgment of $2 million — a total ordered to be paid by convicted co-conspirators.
U.S. District Judge Wesley Brown accepted Tom Blubaugh's plea and scheduled sentencing for 10:30 a.m. April 14, the second Blubaugh sentencing set for that day.
Tom Blubaugh, who walks with a cane, accepted Brown's offer to sit during much of Friday's hearing. And while he struggled at times to hear some of the judge's questions, he made it clear that he understood the situation.
"Are you telling me that you're guilty?" Brown said.
"Yes, sir," Tom Blubaugh said, affirming his plea through a series of similar responses. "Guilty, your honor."
Tom Blubaugh is the sixth person to plead guilty in the tickets scam, and the fourth to admit to conspiracy to commit wire fraud — joining Charlette Blubaugh; Rodney Jones, former assistant athletics director for the Williams Fund; and Kassie Liebsch, a former systems analyst who resigned last year after taking over for Charlette Blubaugh in the ticket office.
Two other former coworkers — Jason Jeffries and Brandon Simmons — earlier had pleaded guilty to failing to notify authorities about the scam.
All are awaiting sentencing and have agreed to cooperate with investigators and prosecutors.
Still awaiting trial on a conspiracy charge is Ben Kirtland, former associate athletics director for development. His trial is scheduled to begin March 8 in Wichita.
Richard Hathaway, assistant U.S. attorney, didn't disclose any new information during Friday's hearing regarding Tom Blubaugh's involvement, nor would he comment afterward about whether Kirtland's case would go to trial. Kirtland's attorney, Robin Fowler, also has declined to discuss the case.
Tom Blubaugh worked at KU as a consultant beginning in August 2007, Hathaway said, after having served as a former director of athletic ticket operations at the University of Oklahoma. Kansas Athletics Inc. paid Tom Blubaugh a total of $115,000, with all such payments approved by Kirtland, according to an investigation conducted for KU.
But Tom Blubaugh was earning much more from his sale of tickets, working in tandem with his wife and in a conspiracy that included others within the department.
Charlette Blubaugh would receive KU tickets from the department's printing contractor, then set aside a "large number" for distribution to others involved in the scam, said Richard Hathaway, assistant U.S. attorney. The tickets then would be funneled to brokers, with proceeds coming back in cash.
Together, the Blubaughs also handled a "substantial quantity" of stolen tickets themselves, to be marketed through an intermediary for sales in Oklahoma, Hathaway said. The Blubaughs then split those cash profits.
Tom Blubaugh intentionally conducted such business in cash "so (that) money from the ticket sales could not be traced back to him," Hathaway said. "He concealed … the fact that he had this outside income."
Tom Blubaugh and his attorney, Stephen Robison, declined to comment about the plea following the hearing.