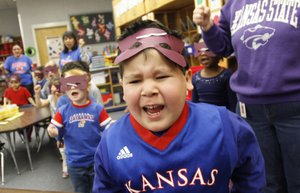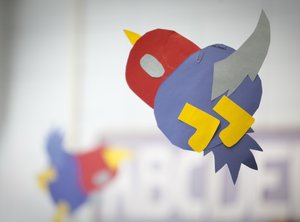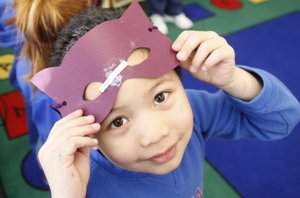 Intrastate rivalry
• All-time KU record against K-State: 180-90
• KU record against K-State on Kansas Day: 3-1 (KU won 36-32 in 1915, 68-43 in 1946 and 78-69 in 1991; and lost 58-57 in 1983.)
• Biggest KU win: 71-58 in 1988, in a regional final of the NCAA Tournament, sending the Jayhawks to Kansas City, Mo., for the Final Four and a national championship.
• KU record at Allen Fieldhouse: 40-18
• KU record at Bramlage Coliseum: 21-1
• Fieldhouse featured on ESPN GameDay: Fieldhouse gates open at 7 a.m. for fans looking to attend ESPN College GameDay in person.
The show will be on from 9 a.m. to 10 a.m. on ESPNU, then from 10 a.m. to 11 a.m. on ESPN.
The show also will be on from 5 p.m. to 6 p.m., leading up to the 6 p.m. tip of KU-K-State.
One fan from the morning session, which is free and open to the public, will get a chance to shoot a half-court shot. A made shot wins $18,000; a miss is worth $1,000.
State Farm, as GameDay sponsor, pledges to contribute $1 for each fan attending the morning session to Hawk Zone, an organization from Student Union Activities that works to boost student involvement in campus athletics.
Kids in Lawrence learn the importance of the KU-Kansas State rivalry early on.
Try age 4.
"They all know what a Jayhawk is," said Jill Anderson, a K-State grad who teaches 16 preschoolers at Kennedy School. "When you're born in Kansas, you're a Jayhawker — no matter what."
All this week, Anderson's students have been learning all about their place in the world, and the preponderance of both Crimson and Blue — and splashes of purple — during this most significant of milestones.
As most any elementary or secondary student in Lawrence and elsewhere in Kansas may recall, Saturday is Kansas Day, marking the territory's entry into the union as a free state. And just as they do every year, students often find themselves spending time in class baking bread, making cakes, singing "Home on the Range" and committing to memory all sorts of knowledge regarding Kansas history, features and trivia.
But even with all that, this year's state birthday is especially significant for two reasons:
• Saturday just happens to be Kansas' sesquicentennial, a full 150 years since Kansas became a state.
• The Jayhawks and Wildcats play Saturday at 6 p.m. at Allen Fieldhouse.
The marquee matchup means millions of people across the country will be getting an education in all things KU, K-State and Sunflower State. That's what happens when the game is the featured contest on ESPN, which is bringing its raucous GameDay show — featuring Rece Davis, Jay Bilas, Hubert Davis, and Digger Phelps — to the fieldhouse for hours of programming, promotion and prognostications.
Thank a couple of native Kansans for helping turn the nation's eye on today's basketball bash in Lawrence.
"When I brought it up to people here, they looked at me like I was crazy: 'What are you doing, knowing the state's birthday?' " said Nick Dawson, ESPN's director of programming and acquisitions for college basketball, who grew up in Hutchinson and graduated from KU in 2002. "In a perfect world, you couldn't pick a better day to have these two teams play. … And it's great for the state."
Dawson worked with Tim Allen, senior associate commissioner of the Big 12 Conference, to schedule the Kansas Day clash.
"As a native Kansan, it's a significant deal," said Allen, who grew up in Chanute and graduated from K-State. "No matter where you grow up, or where you're from, you have pride in your background. This was something natural, something we thought would be fun. All the pieces fell into place."
Back at Kennedy, the youngsters in Anderson's preschool class certainly know Saturday evening's game is big, even if they don't understand all the details.
Rai'Onna Helms couldn't know that KU's biggest win over K-State came in 1988, when the Jayhawks advanced to the Final Four with a 71-58 victory in the Midwest Region — on the way to a national championship.
Daizon Callahan couldn't possibly recall that Scot Pollard made the first and only three-point jumper of his college career during KU's 78-58 Senior Day victory in 1997.
And Hussain Moukali? How's he supposed to know that the Jayhawks toppled the Wildcats during the first-ever game played at the fieldhouse, 77-67, on March 1, 1955?
That's OK, Anderson said. They're still learning.
"It doesn't really matter to me that they don't they don't know the answers to all these things," said Anderson, who "bleeds purple" despite earning her teaching certification at KU and taking graduate classes on Mount Oread. "We talk about how you have to stay in school. The important part is that they learn that school is important, and that college is important, and that when you grow up you need to go to college."
The high-interest rivalry game gives kids a chance to dream, to identify, to predict — all during a milestone in the history of their state, the one born with the help of anti-slavery fighters known as Jayhawkers, the nickname now often reserved for native-born Kansans.
Whether the right team wins Saturday evening won't soon be forgotten.
"We'll talk about that Monday," Anderson said.