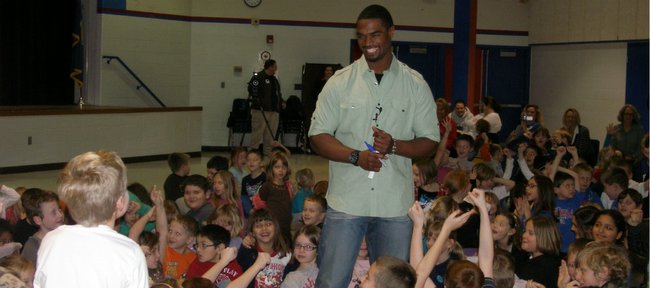 Decked out in designer jeans and a light green shirt, former Kansas University football standout Darrell Stuckey stood in front of more than 300 Oskaloosa Elementary students Wednesday afternoon and talked about the importance of being good citizens and good students.
Stuckey's specific message focused on the evils of bullying and included a story from his childhood.
"This is something that I haven't told many people," Stuckey told the adoring elementary schoolers. "I was bullied when I was a little kid."
No one bought it.
"It's hard to believe he was the littlest kid in his class," said sixth-grader Raegen Hamm of the 5-foot-11, 208-pound San Diego Chargers rookie.
But as Stuckey recounted the story of being pestered by an angry eighth-grader whom he had beaten out for a spot on the track team, the students listened intently and seemed to soak up his message.
There was, of course, a fair amount of rocking and chalking, followed by a spirited question-and-answer session in which Stuckey was asked about everything from his role model growing up — mom — to if he had ever intercepted a pass thrown by San Diego quarterback Philip Rivers. He had. In practice.
After speaking and fielding questions for 30 minutes, Stuckey spent another hour posing for pictures with each class and signing autographs.
"I thought it was real cool," said sixth-grader Dayton Morrissey. "I don't get to meet a lot of KU players or pro football players."
The whole event was equally as cool for Stuckey, a native of Kansas City, Kan., who always made giving back to the community a part of his routine.

"My goal in life is to influence as many people as I can in a positive way," Stuckey said. "And football gives me that opportunity."
At the top of his current to-do list is continued preparation for his April 9 wedding to Lacie Reed, the older sister of KU basketball player Tyrel Reed.
"She's my priority right now and she reminds me every day about (the wedding)," Stuckey said with his signature smile. "We're getting a lot of things done, and we're gonna have a great wedding. We have 300 guests and it's gonna be a lot of fun."
As for football, Stuckey spent much of his rookie season with the Chargers as an observer. Groin and hamstring injuries kept him out of action most weeks, but the fourth-round pick in the 2010 NFL Draft said he learned plenty from the sideline and on the practice field.
"The game, of course, sped up, it was faster," he said. "But I didn't realize I was just as fast as everybody else. So here I am thinking the game's moving faster and (San Diego coach) Norv (Turner) had to pull me to the side and say, 'Stuck, we gotta slow you down.' I was like, 'What? I thought you guys were moving out here.' He goes, 'We are, but you're still moving faster than they are.' So it was really about sitting back and understanding the game and letting it come to you. It was definitely like a red-shirt year."
With just one game remaining in the 2010-11 season, Stuckey said, as a fan of the game, he would be watching next week's Super Bowl between Green Bay and Pittsburgh with a close eye. So who's going to win?
"I'm not sure," he said. "I'm going for the best defense. We were the No. 1 defense this season in the regular season, overall, but I want to see a good, defensive game, guys out there making plays and having fun."