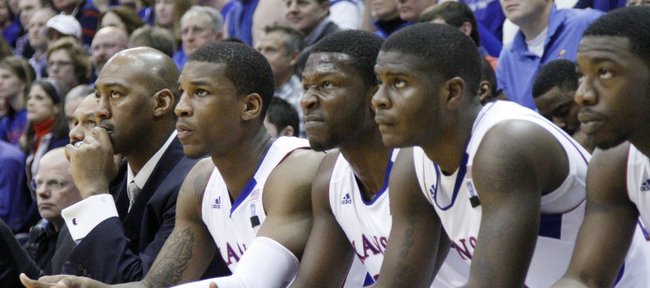 Boulder, Colo. — Bye bye Boulder
CU's shift from the Big 12 Conference to the Pac-10 next season will halt one of the strangest occurrences in sports: Jayhawk basketball fans' migration to Coors Events Center for the annual KU-Colorado hoops game.
Year in and out, for as long as anybody can remember, up to half the fans in the 11,096-seat building have worn crimson and blue and cheered for KU during the CU-KU game in Boulder.
"It's awesome. It helps us every time. When we see our fans there, it gets us extra pumped," said KU senior Reed, who is 3-0 in Boulder. "Realizing how the Jayhawk nation travels, it's pretty cool."
The Jayhawks, who will be playing CU in Boulder for likely the final time — KU's home-away-from-home game in Boulder has been a source of frustration for the Buffs — have won seven consecutive games at Coors Center, where Colorado owns an 11-0 record this season.
"I know, me being a Kansas kid, knowing there are a lot of people in Western Kansas, it's easier for them to go to the game in Boulder than Lawrence," Reed said.
"It's nice having your fans there and having people root for you."
Reed believes the KU presence helps the Jayhawks, but not sure sure it hurts the Buffs, who have dropped 15 in a row to KU and 42 of the last 43 meetings.
"They are playing on their homecourt, and they definitely have their fans there," Reed said. "It's nice being on the court seeing our fans travel so well."
Boyle's take
Former KU guard Tad Boyle, who played for both Ted Owens and Larry Brown at KU, is first-year coach of the Buffs.
"It's a different feeling. I'm not going to say it's just another game because it's not. But it's not just another game for our players either, or our fans. I think everybody kind of circles KU," Boyle said. "That's why, from their standpoint, they get everybody's best shot when they go on the road. Colorado's no different. The fact that I went there and that's where I played my college basketball, it's a little different. What I ask and expect of our players is a business-like approach to every game. So if I'm expecting that of them, I have to take that approach myself, no matter what's going on inside of me."
Self on the Buffs
"Well, Burks is a pro, and Higgins probably will be a pro. I think they're both really good. ... Certainly probably as good of wings as we have in our league. Tad's done a great job with them."
More like this story on KUsports.com