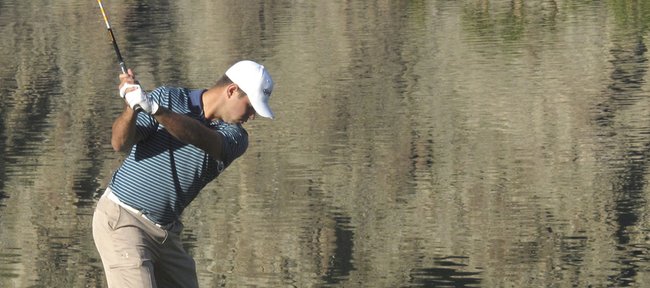 Gary Woodland and Jhonattan Vegas realize the marathon Bob Hope Classic will come down to a sprint.
At least the weather will be perfect for a good run at their first PGA Tour victories.
Vegas birdied the final five holes Saturday to rejoin Woodland for the second straight day atop a leaderboard dominated by hungry, inexperienced 20-somethings.
Woodland and Vegas shot 66s to set up a fifth-round showdown between two 26-year-olds with tremendous driving power and little experience in such pressure-packed situations. Neither slugger had ever held a lead on the PGA Tour until this week.
"This deal is still long from over," Woodland said. "It's going to be a shootout again. The conditions will be perfect again. The greens are perfect. You're going to have to go low and get that putter hot."
Vegas fell several shots behind Woodland with a rough start on the La Quinta course before his flurry of birdies to get to 6 under, matching Woodland at 24 under for the week. Woodland was as steady as the postcard-perfect weather on the Palmer Private course in the PGA Tour's only five-day, four-course event.
"I saw the leaderboard and saw that Gary was (ahead), so I really tried to push it a little bit, and things went my way," said Vegas, who finished his round with an 18-foot birdie putt. "I stayed patient, stayed positive throughout the round, and was able to hit some really good shots in a row."
Vegas and Woodland will play together today with Scotland's Martin Laird, who was two shots back, on the generous Palmer course. The ideal Palm Springs conditions, described by more than one golfer as playing in a dome, are likely to make near-perfection necessary.
With most of the sport's top names taking the week off or playing in Abu Dhabi, the Hope is a prime opportunity for a young player looking to make a mark in a historically important tournament fallen on leaner times despite its $5 million purse.
The prospect of a frantic finish intrigues both Woodland, the former college basketball player playing in his 28th PGA Tour event, and Vegas, the Venezuelan golf pioneer making just his fifth appearance. Woodland never even won on the Nationwide Tour, but plans to draw on his basketball experience and on his four tournament victories during his senior year at Kansas University.
"You've got to stay in the moment, that's the main deal," said Woodland, who has never finished higher than 21st on the PGA Tour. "Even if you have a six-shot lead, these guys out here on this golf course, that's nothing. You can make up six shots in four or five holes."