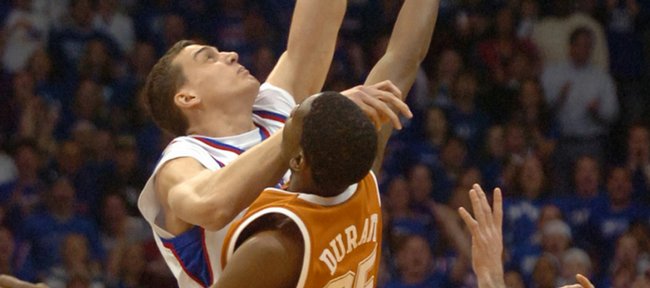 KU has compiled a 7-4 record versus Texas in the Bill Self era. Here's a quick glance at each of the games:
KU 80, UT 68, Feb. 8, 2010, Erwin Center: Down 14-8, KU went on an amazing 22-0 run in the first half. Marcus Morris scored 18 points, while Xavier Henry and Sherron Collins had 15 apiece for KU. J'Covan Brown scored 28 points off 9-of-19 shooting, while Damion James had 24 and Gary Johnson 10 for UT. It marked KU's first win in Austin since 2002.
KU 83, UT 73, March 7, 2009, Allen Fieldhouse: It turned out to be a festive day for Senior Day starters Brennan Bechard and Matt Kleinmann. Collins scored 21 points and dished seven assists, while Cole Aldrich added 12 points and 10 rebounds. UT's James led all scorers with 26 points. KU trailed, 44-30, late in the first half.
KU 84, UT 74, March 16, 2008, Sprint Center: Mario Chalmers scored a career-high 30 points, while Brandon Rush contributed 19 in the Big 12 tournament title game. Chalmers hit eight of 12 threes and Rush six of nine as KU finished with 15 treys, one off a school record.
UT 72, KU 69, Feb. 12, 2008, Erwin Center: Texan Darrell Arthur's 22 points weren't enough as KU lost on Big Monday. Connor Atchley went 4-for-4 from three and scored 16 points. A.J. Abrams and James each hit for 14. Chalmers missed a possible game-tying three at the buzzer. James, who played three minutes the first half because of foul problems, grabbed 13 rebounds the second half while playing all 20 minutes. Justin Mason had six of his eight boards the second 20 minutes as Texas outrebounded KU, 23-12, after halftime.
KU 88, UT 84 (OT), March 11, 2007, Ford Center: KU battled back from a 32-10 deficit, the largest deficit in a victory in KU history. Collins scored 20 points, while Rush and Julian Wright each had 19 and Chalmers 17 in the Big 12 tourney title game. Kevin Durant scored 37 for the Longhorns.
KU 90, UT 86, March 3, 2007, Allen Fieldhouse: Chalmers scored 21 points, while Wright had 17 points and 13 rebounds in helping KU claim its 50th league title. Durant scored 25 points off 10-of-14 shooting (4-for-5 from three) the first half as UT led, 54-42, at the break. Durant sprained his ankle and mustered seven points off 3-of-8 shooting the second half, finishing with 32.
KU 80, UT 68, March 12, 2006, American Airlines Center: Chalmers scored 15 points, while Russell Robinson and Jeff Hawkins had 14 and 13 respectively in the Big 12 tourney title game. KU iced 12 threes while holding UT's LaMarcus Aldridge to five points.
UT 80, KU 55, Feb. 25, 2006, Erwin Center: P.J. Tucker scored 19 and Aldridge 18 on a day Wright potted 18 for KU. It was the worst loss of the Self era in front of ESPN's Game Day crew.
KU 90, UT 65, Jan. 29, 2005, Allen Fieldhouse: Wayne Simien scored 27 points off 11-of-17 shooting, while Keith Langford added 17 points. Aaron Miles had 10 points and eight assists. This also was part of ESPN Game Day.
UT 64, KU 60, March 13, 2004, American Airlines Center: Brandon Mouton scored 18 points, including 10 straight in the second half. Jeff Graves and Keith Langford each had 14 for KU in the Big 12 tournament semifinal. KU squandered an early 11-point lead on a day Simien was held to nine points off 2-of-8 shooting.
UT 82, KU 67, Feb. 23, 2004, Erwin Center: Mouton led the way with 23 points, while Tucker contributed 11 points and eight boards. Langford had 17 and Simien 15 points for KU. It marked KU's fourth straight road loss and fifth loss in 11 games under KU's first-year coach.
More like this story on KUsports.com