Feature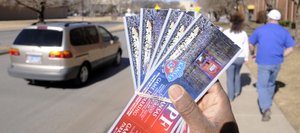 Four former Kansas Athletics employees and one current employee have been federally charged and two former employees have pleaded guilty in a scandal involving millions of dollars of stolen tickets from the university.
A federal judge has agreed to delay the trial for the last remaining defendant charged with conspiring to steal Kansas University athletics tickets, sell them to outsiders and then conceal the proceeds from KU and the IRS.
U.S. District Court Judge Wesley Brown has granted Ben Kirtland's requested postponement, one intended to give his attorney to review evidence in the case: nine boxes of documents provided by KU, plus disks containing 12,000 pages of e-mails involving Kirtland and another 50,000 e-mails involving other alleged co-conspirators.
Kirtland, charged with conspiracy to commit wire fraud, now is scheduled to stand trial March 8 in federal court in Wichita. The trial originally had been scheduled to begin Feb. 15.
Kirtland is former associate athletics director for development at Kansas Athletics Inc., and was among five former officials indicted for their role in a ticket-stealing conspiracy. Two of the others — Rodney Jones and Kassie Liebsch — pleaded guilty last week, and await sentencing at the end of March. Charlette and Tom Blubaugh are scheduled to plead guilty at the end of next week.
Two other former department employees — Jason Jeffries and Brandon Simmons — pleaded guilty previously to a charge of failing to notify authorities about the scam, and are scheduled to be sentenced March 7.