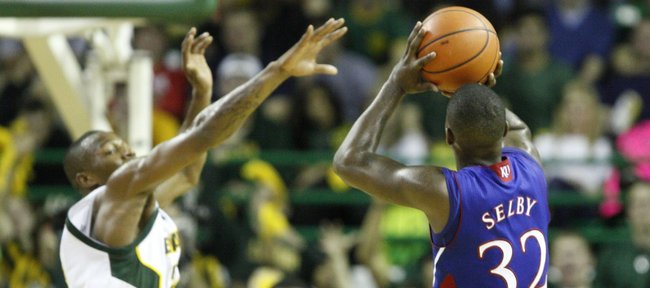 Reader poll
Travis Releford

11%

619 votes

Elijah Johnson

1%

105 votes

Brady Morningstar

14%

789 votes

Mario Little

5%

292 votes

Thomas Robinson

65%

3543 votes

Jeff Withey

1%

55 votes

Other

0%

21 votes
5424 total votes.
Josh Selby, who stroked a three-pointer for Kansas University's first basket, looked like a guy who had something to prove Monday night at Baylor.
Not necessarily the case, says the even-tempered freshman combo guard, who insists his sitting the final 16 minutes of Saturday's 63-60 home victory over Nebraska had nothing to do with his strong play in an 85-65 KU rout of the Bears in Waco, Texas.
"It didn't upset me that I didn't play because, of course, we got the win," Selby said of the Nebraska game, in which he finished with three points, four turnovers and no assists in just 13 minutes. "I just wanted to come out (against Baylor) and focus on the mistakes I made against Nebraska and make sure I didn't make them again. I was just motivated that we were playing Baylor."
Selby finished the ESPN Big Monday game with 12 points off 5-of-11 shooting (two of six threes). He had three assists with three steals and three turnovers in 29 minutes.
"We were just humble. We wanted to get the win very bad. We like to compete every game," Selby said. "I don't think we could play any better than the first half (in which KU hit 23 of 29 shots for 79.3 percent). We were playing defense. We were scoring. We just looked like a good team out there."
For the year, the 6-foot-2 Baltimore native has averaged 12.1 points off 39.8-percent shooting with 27 assists against 29 turnovers. He has made 19 of 45 threes for 42.2 percent.
In three Big 12 games, he has averaged 9.7 points a game off 40.7-percent shooting, making four of 13 threes for 30.8 percent.
Selby said he has benefited from playing on the same team as KU's two leading scorers, Marcus and Markieff Morris, who average 17.2 and 13.2 ppg.
"They can't just focus on me. They have to focus on everybody on the team," Selby said of opposing defenses. "When we go through the twins, it makes it easier for all our guards."
Marcus Morris likes what he has seen of Selby all season.
"He's grown. He's grown. He's grown," Morris said. "He's going to keep getting better. We have guys on the team who talk to him, will continue to talk to him. I consider my own brother. He's going to be a great player."
The Jayhawks will meet Texas at 3 p.m. Saturday in Allen Fieldhouse.
•
Family matters: Marcus Morris on the focused Jayhawks, who are off to an 18-0 overall, 3-0 Big 12 start. "Our motto is, 'No days off.' We've got to keep getting better. That starts in practice with leaders on the team and have everybody go play every day. We are just one family."
•
Recruiting: Four top high school juniors will be attending the KU-K-State game on Jan. 29 as part of unofficial recruiting visits, Rivals.com reports.
They are: No. 13-rated Kaleb Tarczewski, 7-0, 220 from St. Mark's High in Southborough, Mass.; No. 19 Perry Ellis, 6-8, 220 from Wichita Heights; No. 38 Nino Jackson, 6-2, 175, from Ardmore (Okla.) High; and No. 98 Zach Peters, 6-9, 235 from Prestonwood Christian Academy in Plano, Texas.m Peters has orally committed to KU.
More like this story on KUsports.com