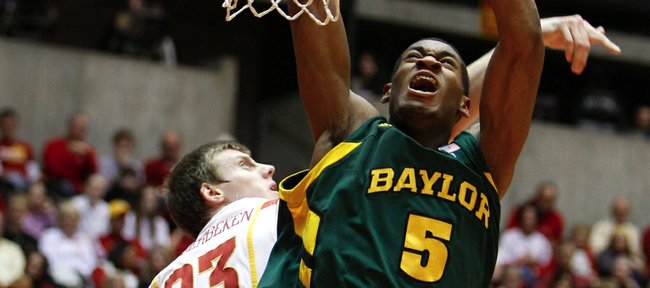 Waco, Texas — Don't look now, but after a lukewarm start, Baylor University freshman Perry Jones is beginning to live up to his billing as possible No. 1 pick in the 2011 NBA Draft.
"He's 7-foot, can run, jump and put his head above the rim. From a pure prospect standpoint, there's not a better athlete out there than Perry," Kansas University coach Bill Self said.
The 6-foot-11, 235-pounder from Duncanville, Texas, who will start at forward in today's Big Monday game against KU (8:30 p.m., Ferrell Center), combined for 45 points off 18-of-22 shooting in BU's Big 12 opening victories over Oklahoma and Texas Tech.
He cooled off to the tune of 10 points off 5-of-9 shooting with five rebounds in Saturday's 72-57 loss at Iowa State.
"He's a good player, a great player. They say he's No. 1 pick, so everybody thinks he's that good," KU junior Marcus Morris said of Jones, who averages 13.1 points and 7.3 rebounds while logging 31.6 minutes per game.
Jones has made 56.6 percent of his floor shots, but just 54.9 percent of his free throws and one of eight threes.
"We depend a lot on him. Getting him off to a good start in the Big 12 and getting him some confidence definitely will be beneficial," Baylor coach Scott Drew said of Jones, Rivals.com's No. 9-rated player in the Class of 2010.
"We've seen him do it in practice and games in different segments. We just need him to keep doing it," Drew added.
Jones said he has changed his mind-set since the start of conference play.
"I have to be a beast on the court like coach Drew told me to be. Don't be the nice guy that I am off the court," Jones told Dallasnews.com. "Coach Drew is helping me be more active on the defensive end as well as the offensive end."
Eighth-year BU coach Drew — he has the Bears off to a 12-4 start, 2-1 in league play compared to KU's 17-0, 2-0 mark — has cautioned fans to not expect too much from Jones
"What I have shared with Baylor people is sometimes the NBA doesn't just draft on production, but on potential," Drew said.
NBAdraft.net has Jones projected to go No. 1 overall, while draftexpress.com has him No. 2 in the June draft.
"Perry is somebody that in 10 years is going to be a much better player than he is now. If the average fan watches and says, 'Why isn't he dominating more, doing more?' He just turned 19," Drew said.
He's advanced for his age.
"We have been so blessed and fortunate in the Big 12. Look at the great players we have had in the last few years," Drew said. "People you saw like a Kevin Durant — 6-10, 6-11 — he (Jones) can do those things.
"Blake Griffin, Michael Beasley ... I think Perry will be able to do some things that are just special."
Drew says Jones has been a joy to coach.
"He has such an unselfish nature because he is a such a team-oriented guy," Drew said.
KU freshman Josh Selby, who played in the 2010 McDonald's All-America game with Jones, lauded both Jones the player and person.
"He's great. He's crazy (athletic)," Selby said, shaking his head for emphasis. "He seemed like a cool guy."
Jones and senior guard LaceDarius Dunn — who exploded for 43 points against Morgan State — give the Bears a powerful inside/outside presence. The 6-4 Dunn averages 22.3 points a game off 44.8 percent shooting. He has made 54 of 129 threes for 41.9 percent.
Dunn — he has 2,029 career points — needs just 161 points to pass Terry Teagle as Baylor's all-time leading scorer.
"Lace is nice, man," KU junior Tyshawn Taylor said of Dunn, who scored 27 points off 8-of-14 shooting (5-8 from three) in KU's 81-75 victory over Baylor last year in Allen Fieldhouse. "We've got to lock in on him. He will put his shots up. He'll get points. It's hard to stop him from scoring, but we have to make it hard for him to score. If we do that, it'll be fine."
"We know he can score," Self added of Dunn, who has made a three in a school-record 30 straight games. He hit a school-record 10 treys against Morgan State and went 4-of-11 from three in Saturday's loss in Ames.
"He can make hard shots. He's great at that. He makes shots guys don't take," Self added.
BU also has a double-digit scorer in Quincy Acy, a 6-7 junior who averages 13.6 ppg.
"Acy is a monster. He's a freak," Taylor said. "We just have to come out and do what we do."
Baylor — which Self says is the most athletic team KU will have faced so far this season —has won four of its last five games after a stretch in which the Bears dropped three of four.
"Baylor is good. They are long," said Self, who has a 7-1 record versus BU; Drew is 1-7 versus KU. "I'm sure it will be a good atmosphere there. Winning on the road is hard no matter what. We'll have to play a heck of a lot better than we played the last three games. We've got to make shots (against BU's zone) and get better play than we've gotten so far."
After tonight, KU is idle until Saturday, when the Jayhawks play host to Texas in a 3 p.m. tipoff.