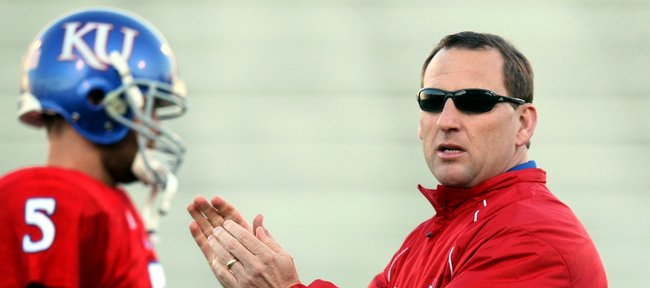 Former Kansas University football assistant David Beaty is returning to KU after a year away from the school, the Houston Chronicle is reporting.
Internet reports indicated that Beaty, who served as the offensive coordinator at Rice University in 2010, was expected to return to the KU football program to fill the vacant wide-receivers coaching position left by Darrell Wyatt.
Wyatt fled Kansas after one season to take a similar position at Texas.
KU officials have not confirmed the reports of Beaty's potential return, and sources told the Journal-World that a deal had not been finalized.
If Beaty does join KU coach Turner Gill's staff, it would mark his second stint with the Jayhawks. Former KU coach Mark Mangino hired Beaty in 2008 to replace Tim Beck, who left for Nebraska, and Beaty coached KU's receivers during the 2008 and 2009 seasons. Both teams were among the most explosive offensive teams in KU history.
After Mangino resigned in December 2009, Beaty stayed on as co-interim head coach. He was not offered a spot on Gill's first staff, but bringing him back into the fold helps offset the loss of Wyatt, who was one of Gill's top recruiters, particularly in Texas.
Like Wyatt, Beaty also has strong ties to Texas, having recruited KU running back James Sims, wide receivers Chris Omigie and Ricki Herod and defensive lineman Randall Dent from the Lone Star State during his first go-round with KU.