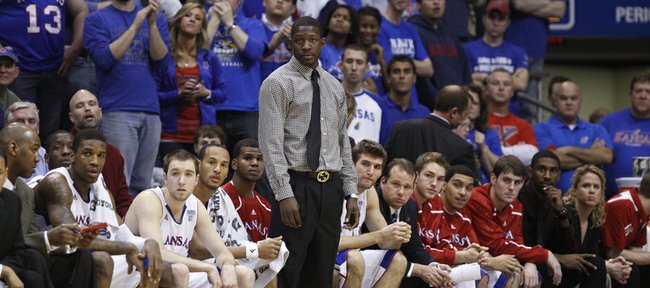 Kansas University senior basketball player Mario Little must complete anger management counseling and 30 hours of community service as part of a diversion agreement for his battery case in Lawrence Municipal Court.
City prosecutor Jerry Little also said Tuesday afternoon that victims in the case didn't want to prosecute.
"He committed these offenses," Jerry Little said. "And I think what he got out of it from diversion is more than what he'd get if we went to trial and he was found guilty."
KU coach Bill Self had said Monday night that Mario Little had received a diversion agreement on two battery charges related to a Dec. 16 incident in which he was accused of shoving a 22-year-old woman into a sink. Self also announced he cleared Little, a redshirt senior from Chicago, to return to competition after missing six games during a suspension.
Jerry Little on Tuesday released the terms the two sides agreed to for the diversion agreement on two counts of misdemeanor battery. To qualify for diversion defendants must have no prior criminal history.
Jerry Little said the terms are:
• To stay out of further legal trouble for one year.
• Write a letter of apology to the victims in the case.
• Complete anger management counseling at his own cost. Self has said counseling will continue through the basketball season.
• Pay $250 in diversion fees and court costs.
• Complete 30 hours of community service.
Mario Little had apologized publicly the morning after he was arrested.
According to the original police report, officers said early on Dec. 16 he confronted the woman who was inside a residence with a 19-year-old Lawrence man. Jerry Little on Tuesday referred to the woman as Mario Little's ex-girlfriend.
The report said Little then got into an altercation with the man and chased the woman as she ran to a nearby residence, where he later pushed her into a sink.
He had originally faced two more counts of battery for pushing another woman and an altercation with another man. Jerry Little said his office agreed to drop those two counts along with charges of criminal damage and trespassing.
He said Mario Little either has already repaired or agreed to repair a door he damaged that night.
Jerry Little and Mario Little are not related.
Self on Tuesday further discussed his decision to reinstate Little for competition.
"It wasn't an easy decision. I believe 100 percent in my heart it's the right decision," Self said. "I tried to look at it as if he was my own child. We let the legal system play out. He got diversion (for the two battery charges), went through the courts, he's done a lot of things through us.
"I had thought that holding him out six games and bringing him back for conference if I was going to bring him back was the right time to do it.
"He's handled this as well as you can considering how much it's hurt him," Self added.
Self said removing Little from the program simply did not fit in this particular situation.
"A big part of his life is wrapped into what happens here with him as a Kansas basketball player. Five minutes of whatever happened — and we know something did happen and it was wrong — to totally affect his opportunity to play overseas, his opportunity to finish in uniform and have a good experience that would be a good springboard for the rest of his life over that I thought was too severe to take from him," Self said.
"I feel I'd seriously be letting him down as his coach, somebody that said I'd always look out for him and have his back in this particular situation because I believe he has done what he should have done (since the incident) and certainly I know the remorse he feels and has felt because of it."
Gary Bedore also contributed to this report.