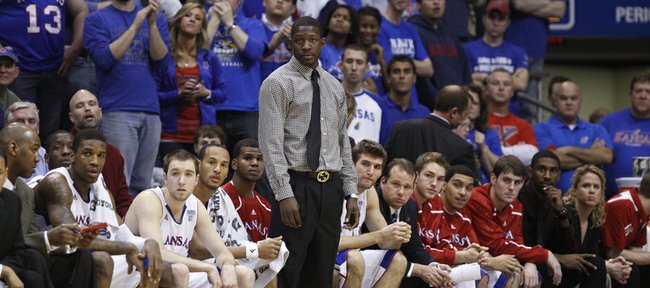 Kansas University senior basketball player Mario Little, who has missed the last six games while on indefinite suspension, has been reinstated for competition, coach Bill Self said Monday night.
Little, a 6-foot-5, 210-pound guard from Chicago, was arrested on Dec. 16 on misdemeanor battery charges, two counts of criminal damage to property and one count of criminal trespassing.
"Mario has met the requirements of the court and has received a diversion agreement on the two misdemeanor battery charges," Self revealed Monday.
"He has not only met the requirements of the court but also the requirements of our basketball program. One of those stipulations is his receiving weekly counseling that will continue through the end of our basketball season."
Little, according to the original police report, pushed a 22-year-old Lawrence female resident in an attempt to find a person listed as his girlfriend. The police report indicated he pushed the person identified as his girlfriend into a sink. He also had confrontations with two men in the early morning hours.
"We as a program take the events of Dec. 16 very seriously," Self said. "Mario made mistakes and exercised poor judgment. We have let the legal process play out, and have been able to evaluate Mario in the last four weeks in a variety of ways, including counseling. We feel he should be allowed to rejoin our team for games."
Little played in nine games prior to his suspension, averaging 6.2 points off 55 percent shooting. He will be eligible to play in Wednesday's 8 p.m. Big 12 opener at Iowa State.
"I believe in Mario," Self said. "He has been a pleasure to coach and I am certainly proud of the fact he only has three hours left to graduate (in African-American Studies). I'm more concerned about what's best for our program rather than an individual, but in this case, I believe he deserves a second opportunity to finish his career in uniform. I have consulted with many people about this, and after a lot of deliberation feel confident this is the best thing to do."
Little issued his take on the situation on Monday night: "I have appreciated all the support people have shown me, especially my teammates," Little said. "I accept responsibility for what took place that evening and have learned from it and feel awful about it. I'm appreciative of the opportunity to come back. The last four weeks have given me time to reflect and reevaluate a lot of things with myself. I certainly anticipate not only handling situations better but also feel I have become a much better person because of this."
•
Releford injury update: KU sophomore guard Travis Releford, who sprained his left ankle late in the first half of Sunday's 67-60 overtime victory at Michigan, is listed as questionable for the Iowa State game.
"Travis is actually doing pretty well," Self said Monday on his Hawk Talk radio show. "We did all the X-rays and everything. He has a pretty severe ankle sprain. They worked on it a lot today getting the swelling down. I'd say his status for Wednesday is up in the air. It's better than doubtful. I hope we have him. I don't know if that will be the case or not. We're going to need him down the road, that's for sure. I don't anticipate him missing more than one game if he misses any."
•
On second thought: Self, after watching the game films, had this to say about Sunday's win at Michigan:
"I thought we took a little step back yesterday, but one thing we did yesterday was play great in overtime," Self said on the Big 12 weekly coaches teleconference.
KU outscored Michigan, 16-9, in OT.
"To win on the road when we went 2-for-20 from three in regulation ... they shot it miserably as well. Some nights you have to figure a way to win. We let it get away from us by being so careless., but we played well down the stretch and made some nice plays. This might sound strange to say, but that was probably good for us (in long run) to lose momentum and have to come back and get it back. I definitely take some positives out of that game."
More like this story on KUsports.com