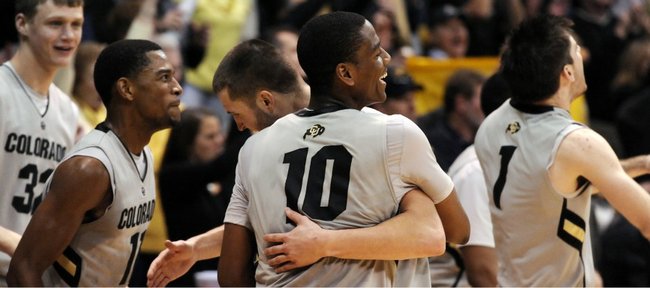 Colorado 89, No. 9 Missouri 76
Boulder, Colo. — Super sophomore Alec Burks scored a career-high 36 points and Colorado beat Missouri in their final Big 12 opener on Saturday.
The Buffaloes (12-4, 1-0), who join the expanded Pac-12 next season, snapped a streak of 13 straight losses in conference openers going back to 1997.
The Tigers (14-2, 0-1) had won nine straight games overall and nine in a row against the Buffaloes, whose last victory over a top-10 team was a 93-80 upset of third-ranked Texas on Feb. 4, 2003.
The Buffs took control early behind Burks and a solid supporting cast. Cory Higgins scored 18, Levi Knutson added 13 and Austin Dufault had 12. Michael Dixon Jr.'s 17 points led the Tigers, who were outrebounded, 47-33.
No. 8 Connecticut 82, No. 12 Texas 81, OT
Austin, Texas — Kemba Walker, the nation's leading scorer, made a 15-foot jumper with 5 seconds left in overtime to lift Connecticut over Texas.
The Longhorns quickly moved the ball to midcourt before calling timeout, but freshman Cory Joseph's juggling three-pointer after the inbound pass fell well short.
Walker shot 8-for-27 and finished with 22 points against a tough defensive effort.
Connecticut (12-2) ended Texas' 27-game home winning streak against non-conference opponents. Jordan Hamilton and J'Covan Brown each scored 20 points for the Longhorns (12-3).
Alex Oriaki had a career-high 21 rebounds for the Huskies.
No. 16 Texas A&M; 69, Oklahoma 51
Norman, Okla. — Khris Middleton had 16 points and five assists as Texas A&M; won its 11th straight game, beating Oklahoma in the Big 12 Conference opener for both teams.
Texas A&M; matched the third-longest winning streak in school history and handed Oklahoma its first loss in nine games this season at Lloyd Noble Center. The Aggies have won six of their last nine against Oklahoma (8-7, 0-1) after losing 25 of their first 26 matchups.
The Aggies (14-1, 1-0), who shot 54 percent from the field, have won four of their last five Big 12 openers.
Andrew Fitzgerald scored 17 points to lead Oklahoma.
Oklahoma State 76, No. 17 Kansas State 62
Stillwater, Okla. — Jean-Paul Olukemi scored a career-high 22 points in his Big 12 debut and fueled a big second-half run.
Olukemi provided 11 points during a 27-7 surge that propelled the Cowboys (13-2, 1-0 Big 12) into the lead while Kansas State (12-4, 0-1) failed to score a basket for nearly eight minutes.
Preseason All-America guard Jacob Pullen scored 20 points and Rodney McGruder added 19 to lead the Wildcats as the preseason conference favorites played their fifth straight game without suspended No. 2 scorer Curtis Kelly.
K-State had its top four remaining frontcourt players foul out, and no one was able to make up for the absence of Kelly. The Wildcats lost in Gallagher-Iba Arena for the 11th straight time since 1994 — before the start of Big 12 play.
Baylor 71, Texas Tech 59
Lubbock, Texas — LaceDarius Dunn and Perry Jones III scored 20 points each to lead Baylor past Texas Tech.
Texas Tech overcame a 12-point deficit in the second half to take its first lead of the game on a free throw by David Tairu with 7:10 remaining.
But the Bears (11-3, 1-0 Big 12) toughened and used a 20-2 run to seal the win down the stretch. The Red Raiders (8-8, 0-1) went more than 4 minutes without a basket.
Dunn scored seven points in the run.
Nebraska 63, Iowa State 62
Lincoln, Neb. — Lance Jeter made the second of two free throws with four-tenths of a second left to give Nebraska a victory over Iowa State in their Big 12 opener, extending the Cornhuskers' win streak to 11 games.
Jeter went to the line after stripping the ball from Diante Garrett. Jeter raced the other way and was fouled by Melvin Ejim as he went for the layup just before the final buzzer.
Garrett had 18 points and Ejim 12 for Iowa State (13-3, 0-1), which had a seven-game win streak end.