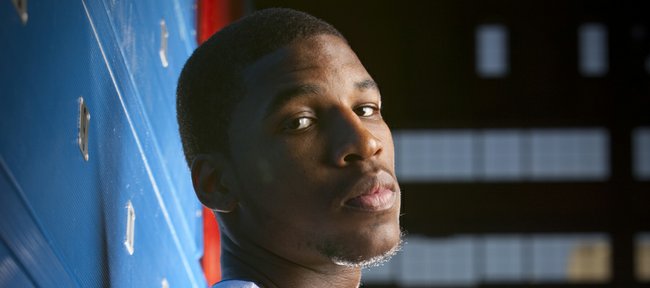 Thomas Robinson felt the support of his Kansas University basketball family earlier this week in his hometown of Washington, D.C.
"My teammates and coaches have been the best," said KU's 6-foot-9, 237-pound sophomore forward, who headed home for the funeral of his grandmother, Shirley, before returning for practice Thursday afternoon.
"I wouldn't say it has been easy, but I don't think this situation would have been as smooth as it has been without them helping me, talking to me every day when I was home, calling me, checking on me. Definitely my teammates and coaches helped a lot, also the fans. A lot of fans wrote me on Facebook, Twitter. I appreciate that," Robinson added.
Robinson spent one extra day at home to celebrate the life of his grandmother with family members.
"I wanted to stay and be with my mom. It was tough for me, but even more tough for her," Robinson said. "I didn't want to leave her. I thought it was the right decision. My team pulled it (Wednesday's 99-52 win over UMKC) out without me, so that was good."
Of his grandmother, Robinson said: "She was a great woman. She was strong. She never gave up, so I guess that's what I got from her."
KU coach Bill Self agreed it was best for Robinson to stay in D.C. a day after the funeral.
"As a man of his house, he said it was more important for him to be with his family. I totally agreed. I thought he should stay," Self said. "It's a little different role. Of course, he obviously is close to his grandmother. She helped raise him, with his mother, Lisa. He needed to be back there.
"I'm sure it was hard for him to come back, but he also has family here, too," Self added. "He gets comfort from those guys, also. It's tough for anybody to lose a loved one regardless of timing or what's going on. I'm sure it's heavy on his heart. He'll deal with it."
Senior guard Tyrel Reed said Robinson has the support of the entire team.
"He's such a tough kid, such a good kid," Reed said. "We're really sad for his loss. As a group, we'll stay around him and be there for him. I think he'll be fine. I'm glad he's out there with us."
Robinson, by the way, was able to keep track of the KU-UMKC game.
"I don't have ESPN3 at home, so I was watching play-by-play on my computer," Robinson said. "It was a real good first half. From what I read, our press looked good. In the second half, we laid back a little. We need to be consistent with everything."
More like this story on KUsports.com