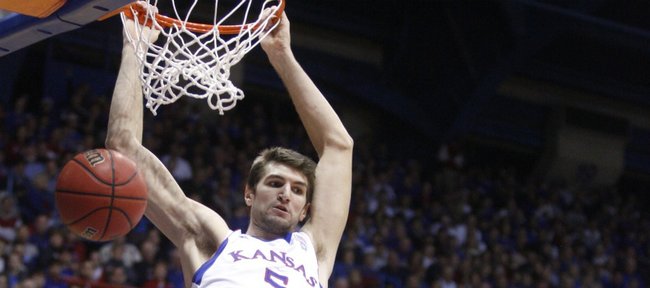 More men's basketball news
It's a big deal for a Kansas University basketball player to be introduced as a starter in tradition-rich Allen Fieldhouse.
"That was my first time. It was awesome. It was really nerve-wracking at first. It was a lot of fun," sophomore center Jeff Withey said, describing his initial start in a Jayhawk uniform.
The 7-footer from San Diego scored six points and grabbed four rebounds while playing 17 minutes in Sunday's 83-56 rout of Miami University.
"I felt I had a lot of energy," Withey added. "It was a great time. I was glad I was able to and my parents were here to see it."
Withey — he's averaged 7.4 minutes per game in 12 games entering Wednesday's 7 p.m. home game against UMKC — learned he was starting versus Miami at Sunday shootaround several hours before tip.
"It really did shock me. Coach just kind of said it. I had to prepare from then on," said Withey. He was told to stick to 6-8, 232-pound junior Julian Mavunga, who hit three of nine shots and scored eight points in 34 minutes.
"I was definitely pumped up," added Withey, "definitely ready to play. Watching film, No. 4 (Mavunga) was a great offensive player. Coach told me to shut him down. I did my best to try. It wasn't just me. I thought everybody played well, especially on the defensive end."
Self was impressed with the performance from Withey, who still is trying to impact the rotation at KU following his late September foot surgery.
"I thought Jeff played well and gave us good minutes, no question," Self said. "Hopefully he'll be able to do that going forward. He looked more aggressive to me. He looked more confident."
Self has said Withey has lost up to 20 pounds since returning from his injury.
"I got sick a little while ago and lost some weight," Withey said, noting he weighed "about 220" after being close to 240.
"I've been struggling trying to maintain my weight now, because during the season it's really hard to put weight back on. I've gained a couple pounds back. It's not realistic for me to get back to 230, 235 right now."
Self said tonight's lineup would be another game-day decision. Withey realizes starting positions and spots in the rotation can change daily.
"If you are having a bad week in practice, your position is up for grabs because everybody is so good here," Withey said. "It's definitely tough, but very rewarding to play here at KU."
Self said Tuesday that he will continue to use undersized 6-6 Travis Releford some in the post.
"Teams that play small, we'll play Travis. Teams that play big, we'll play Jeff. A lot of things moving forward in conference play will be based on matchups as much as anything else," Self said. "All kids try hard and practice hard. You'd like to play them all, but you can't. A lot is matchups.
"He plays bigger than what he is. His post defense is probably the best we have. I am a fan of Travis," Self added. "He's an energy guy. Whatever role we put him in, he's kind of like a utility baseball player. Whatever we need done, he'll get out there and do it."
Releford likes playing inside and out.
"At practice I work with the bigs a little bit, then I work out with the guards. It's fun and gives me a little playing time, too," Releford said, adding, "coach is trying things out early in the season just in case later in the season I have to play down low."
Self, of course, will continue to play those individuals who practice the best.
"The eighth, ninth, 10th guy has played different amount of minutes, game to game. It's not set in stone," Self said of the rotation. "It probably won't be set in stone all year long."
More like this story on KUsports.com