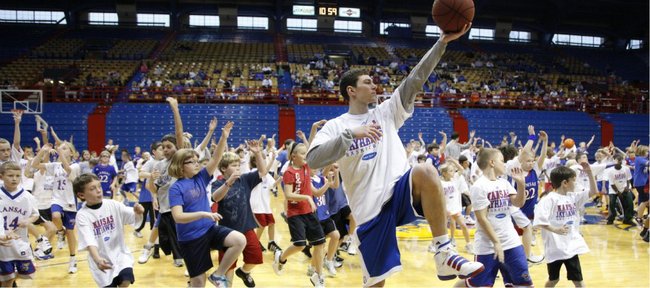 Just one Kansas University men's basketball player has started all 13 games this season.
That person is senior combo guard Tyrel Reed, who takes a 9.1 scoring, 2.8 rebounding average into Wednesday's 7 p.m. home game against UMKC.
"One thing that has happened that is very positive for us ... I think Tyrel Reed has emerged as the face of our program," KU coach Bill Self said on Monday's Hawk Talk radio show.
"Of course, he is a great role model. I think he has the genuine respect of everybody of how hard he tries and what he's done. Brady, too," Self added of fellow senior/fellow Kansan Brady Morningstar, who has started nine games and come off the bench in four.
"Tyrel is playing well. The whole thing about Tyrel that's impressive ... we've always counted on him to be a shot-maker for us. He's not made shots like the past, but is still playing very well."
The 6-foot-3 Reed, who has 15 rebounds in KU's last three games, has made 40.9 percent of his shots, 33.3 percent of his threes.
•
Recruiting: Ben McLemore, a 6-5 senior guard from Oak Hill Academy in Mouth of Wilson, Va., who attended Sunday's KU-Miami game, likely will attend another KU game this season before choosing either KU or Missouri, his former AAU coach tells Rivals.com.
"Ben wants to see what it's like the actual day of a game, pre-game and shoot-around, so we're planning to return," Darius Cobb of the St. Louis Majestics said.
"Ben isn't going to make a quick decision now that he's returned home from Kansas," Cobb added. "It's a two-horse race. For Ben, it's just a matter of gathering all the information about each school and making an informed decision."
Cobb said McLemore loved it when the KU fans chanted, "We Want Ben."
"To hear 4,000 to 5,000 people calling your name and saying they want you to attend their school, what kid wouldn't enjoy that type of attention? Ben didn't know whether to shake, wave his hand, tip his hat or whatever," Cobb said.
DeAndre Daniels, 6-9 senior from IMG Academies in Bradenton, Fla., is expected to choose either KU, Kentucky or Texas any day now.
More like this story on KUsports.com