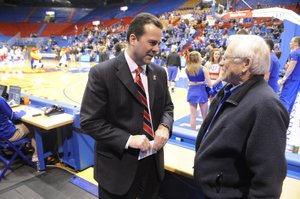 Videos
KU introduces Sheahon Zenger as new AD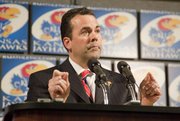 Kansas University introduced Sheahon Zenger as its new Athletic Director on Monday, Jan. 3, 2010.
Those who remember new Kansas University Athletic Director Sheahon Zenger from his days as a doctoral student at KU recalled a high-energy, focused and driven man who remained humble and true to his Kansas roots.
His doctoral training in educational leadership and policy studies and familiarity with how a university works could give him an edge when relating to the academic side of the school, some KU faculty members said.
Susan Twombly, professor and chairwoman of educational policy and leadership studies, worked with Zenger during his time at KU.
She said it was rare for someone on Zenger's career path to come back to school and earn a doctorate.
"He quit his job to come back to school full-time," she said. "He's a really, really nice guy."
Twombly said it was a good bet that faculty members would like Zenger.
"It's not just the degree that helps him, but the attitude that goes along with getting that degree," she said.
At his Monday press conference, Zenger mentioned Twombly, along with a slew of other KU researchers and colleagues he had met during his time here.
Lori Reesor is a longtime friend and KU classmate of Zenger's. She is working in KU's Office for the Vice Provost of Student Success and will soon leave KU for the University of North Dakota.
She described her friend as a deep thinker, one who was always engaged in late-night, after-class discussions on how to address the world's problems.
"He's always reading," she said. "And thinking. And thinking about ways to better himself."
If he weren't as interested in being a university athletic director, it would be easy to envision him as a professor, Reesor said, or even as a university president.
And he couples it with a solid sense of humility. At his press conference — when he said he was humbled to be at KU — that's not him putting on a show for everyone, she said.
"That's real," she said. "And I think that's easy to lose in the world of athletics."
Reesor and Zenger have maintained a friendship for years, after they both graduated with doctoral degrees from KU.
She said he distinguished himself from others who thought about ways to improve the world around them in that he actually always seemed to find a way to put the plan into action.
His doctoral dissertation demonstrated his familiarity with the inner workings of a university. He wrote about people who seem to be called to fill a variety of leadership roles as needed at universities.
For his research, he interviewed longtime KU pinch-hitter Del Shankel, who served twice as an interim chancellor, as an interim athletic director and who also bridged the gap at the KU Alumni Association.
Shankel, who was interviewed by Zenger many times, said he felt Zenger was "extremely well-prepared" for his new job.
"He's bright, intelligent, curious and motivated," Shankel said. "Everything I know about him suggests he'll do a great job at KU."