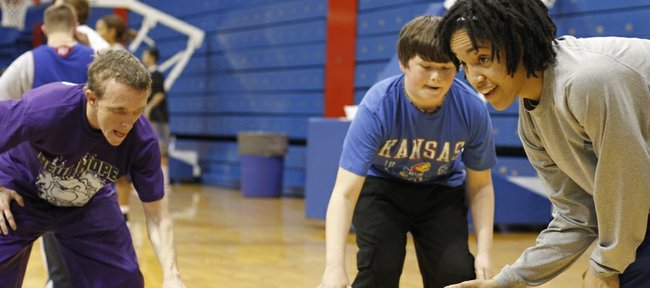 Kansas University's men's basketball players had hoped to play host to more than 100 Special Olympians at the 27th-annual Wilt Chamberlain Clinic, held Sunday afternoon in Allen Fieldhouse.
Instead, foggy weather prevented the Jayhawks from returning from Norman, Okla. — site of Saturday's 82-70 victory over the Oklahoma Sooners — until 6:45 p.m. Sunday, several hours after the conclusion of the clinic, which was rescued by KU's women's team.
"It was not the best way to spend a day off," KU coach Bill Self said of a day that started on a plane and ended on a bus.
"By far the worst thing about it was not being able to be with the Special Olympians. Because of the weather, we just couldn't be there.
"Fortunately for us, Bonnie (Henrickson, KU women's coach) and her staff and players filled in," Self said. "I'm sure the Special Olympians had a great time with Bonnie and the players."
Judging from the smiles on the faces of the Special Olympians and KU women's players, that indeed was the case.
"We heard the guys were stuck," said Jayhawk forward Carolyn Davis, who scored a career-high 36 points in Saturday's home victory over Nebraska, "but we didn't think they wouldn't be able to get back. We were excited when coach told us we were going to fill in today. We're one program here. We knew we could help out.
"This is always a lot of fun for us. It's fun to learn from them (Olympians) and to teach them. We're all here to have fun."
What the Jayhawk men went through after defeating the Sooners cannot be classified as fun. They were unable to fly on their charter jet from Oklahoma City to Topeka Saturday night because of dense fog in Kansas.
An alternate plan to fly to Wichita and drive to Lawrence was shelved when buses were unavailable in Wichita.
After spending the night in OKC, the Jayhawks re-boarded their charter at 10 a.m. Sunday. The plane made its way to Topeka, circling for a half hour, before unrelenting fog forced a re-route to Tulsa.
After spending three hours in Tulsa, the Jayhawks finally boarded a bus that carried the team to Allen Fieldhouse.
"The guys are in good spirits. They handled it well. We're safe and sound," Self said. "There was some weird weather. We're glad to hear the clinic was a success."
Henrickson said the women's players were happy to have chipped in.
"We did this in January with Douglas County (Special Olympics). We told our kids, 'You are so good at it, we're going to do it again,''' Henrickson said. "Our players will tell you it's one of the best things we do all year. It's been good. It's been fun."
And not an inconvenience.
"It is all about teamwork," Henrickson said. "He (Self) called me about 11 (a.m. Sunday) and said, 'We've got an emergency.' I said, 'As long as we can work around tutoring and figure out our schedule, we'd be happy to do it.' And we did it."
This, that: Self said he'd not yet decided whether suspended junior guard Tyshawn Taylor would play in Wednesday's 8 p.m. home game against Texas A&M; ... Self said Elijah Johnson, who was elbowed in the neck and missed most of the second half of Saturday's game, was fine.
More like this story on KUsports.com