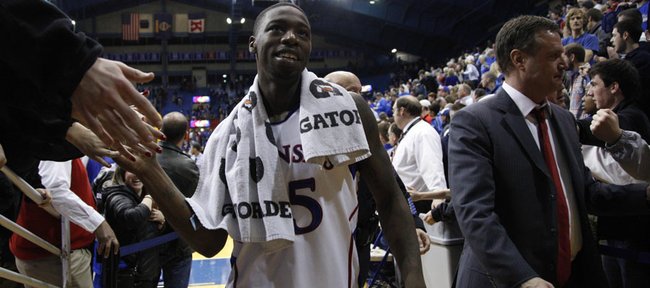 Kansas University basketball coach Bill Self chatted with his new starting point guard on Wednesday afternoon.
"Elijah made shots the other night. I told him today, 'I couldn't care less about you making shots,''' Self said, revealing his message to sophomore Elijah Johnson, who scored 15 points off 5-of-6 shooting (4-for-4 from three) in Monday's 92-65 home victory over Oklahoma State.
"It was the best point guard defense we've had in a long time," Self added of Johnson's work on OSU's Keiton Page, who scored eight points off 2-of-11 shooting.
"I thought his whole focus was guarding Page. You focus on the right things and what do you do? You shoot the ball better. Guys that worry about making shots, they don't make them. Guys that worry about doing the right things make shots.
"A perfect example is Elijah making the most of his opportunity," Self added of Johnson, who opened for junior Tyshawn Taylor, who remains on indefinite suspension heading into Saturday's 3 p.m. game at Oklahoma.
"He is our starter. I mean there is no doubt about that. Whether or not he remains a starter for how long, who knows? We're going to Norman ... he's going to have the ball in his hands, so we'll see how that goes."
Johnson has started two games this season.
"That's a point all fans around here think about and study it because starting is so important (to fans). To me it's not," Self said, "but I do think when you start, you usually think there's more rope — that you have a chance to maybe play through mistakes more than if you come off the bench."
Asked about Taylor on Wednesday's Hawk Talk radio show ... Self didn't reveal how many games he'd miss for violating team rules. He did respond to a question regarding Monday's ESPN coverage of the KU-OSU game. According to a Hawk Talk questioner, ESPN sideline reporter Holly Rowe reported that she spoke with Taylor, who said his suspension was no big deal and he'd be back soon.
Self said Taylor merely meant the suspension was not season-ending. He said the penalized player definitely did consider this situation a "big deal."
"It's probably a big deal when he (Taylor) is in my office and is so emotional he can't come to grips with what is going on because he knows he made a mistake and let everybody down. You don't see that," Self said of the moment Taylor learned he was suspended.
"The interviewer in this situation didn't mean anything negative. She was trying to refer to, 'Is this going to be a season-ending deal?' Which it is not. It's not, but still I can hold judgment or reserve the right to determine when (he'll play again). When people get out of that, 'He doesn't care,' that's the most ridiculous thing I've ever heard."
Of the suspension, Self said: "Why can't people just accept the fact, 'Hey, a kid 21-years-old screwed up?' The worst thing that could happen is if you let it go (unpunished), but if you let it go, nobody knows about it so it camouflages your problems. Here is a situation you do what is right. It happens all across America. You (coaches) do what is right, discipline or suspend or whatever and now people question, 'Well they've got problems or they have character (issues).' The problems occur if you don't do anything and keep it from everybody.
"Sometimes if you can discipline somebody and nobody knows about it? Great. You can't do that at Kansas with your starting point guard. That's the bottom line. Why not put it out there and say what the situation is?"
Injuries: Self was asked on Hawk Talk if Elijah Johnson would eventually need surgery on his shoulder. It popped out of place in the Colorado State game on Dec. 11 and has bothered him off and on since.
"I don't know exactly if it is something that needs to be addressed surgically or through rehab, strengthening it. That (surgery) would be the last resort. It's not like it's severely popping out of place. He has something, which I believe is very treatable, with a special kind of rehab to strengthen it. I imagine it's the direction we will go," Self said.
He said Thomas Robinson did not have excessive swelling in his right knee after playing 10 minutes on it Monday.
"Thomas is fine. He practiced full speed today," Self said of the sophomore coming off meniscus surgery.
Going to rafters: Tyrel Reed's name will be stitched on the banner in the north fieldhouse rafters that lists all of KU's first-team Academic All-Americans.
"You can win some postseason accolades individually that don't put you in the fieldhouse forever. You make first-team Academic All-American and your name is going up in the fieldhouse forever," Self said. "Look up on the north end at the banner. Tyrel's name will be right there under Cole Aldrich, so that's pretty cool. He deserves it of course," Self said.